You are here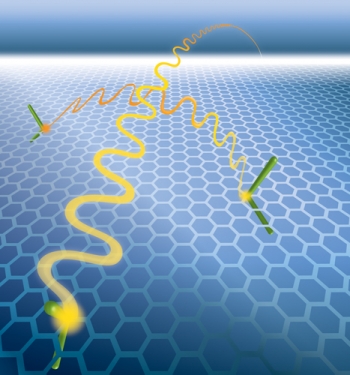 Undoped graphene isn't a metal, semiconductor, or insulator but a semimetal, whose unusual properties include electron-electron interactions between particles widely separated on graphene's honeycomb lattice - here suggested by an artist's impression of Feynman diagrams of such interactions. Long-range interactions, unlike those that occur only over very short distances in ordinary metals, alter the fundamental character of charge carriers in graphene. | Photo Courtesy of Caitlin Youngquist, Berkeley Lab Public Affairs
Graphene, a sheet of carbon only a single atom thick, was an object of theoretical speculation long before it was actually made. Using the Advanced Light Source at Lawrence Berkeley National Laboratory, researchers have taken a step towards confirming that graphene is every bit as unusual as expected – perhaps even more so.
 

David Siegel, a graduate student at Berkely Lab, noted, "Graphene is not a semiconductor, not an insulator, and not a metal. It's a special kind of semimetal, with electronic properties that are even more interesting than one might suspect at first glance."
 

Siegel and his colleagues examined graphene's Dirac point -- a unique feature in the material's band structure. Unlike the band structure of semiconductors, graphene has no band gap (aka the gap in energy between the electron-filled valance band the and the unoccupied conduction band). In graphene, these two bands are represented by cones which cross at the Dirac point. When the valance band of graphene is completely filled, and the conduction band is completely empty, some interesting properties of graphene come into focus.
 

Learn more about graphene and its mysterious characteristics here.