You are here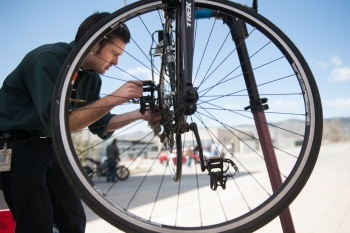 Energy Department employee Bill Vandermeer tunes a bicycle as part of Earth Day events at National Renewable Energy Laboratory last year. Biking to work can help you reduce carbon emissions and save money. | Photo by Dennis Schroeder, National Renewable Energy Laboratory.
This Wednesday is Earth Day, which means you still have time to plan how to celebrate. What better way to observe the occasion than by making simple changes that will help you save money, conserve energy and reduce your environmental impact? Here are 10 small things you can do to save energy every day:
If you can, make the most of springtime by walking or

biking to work and using your car less often. This reduces carbon emissions, saves money and makes you healthier.

Dress up your windows with

drapes to reduce heat gains by up to 33 percent.

Open your windows and let

natural ventilation cool your home for free.
Air-dry clothes or use a dryer with a moisture sensor that will automatically shut off when clothes are dry.

Fight vampire loads by using an

advanced power strip. This could help you save as much as $200 per year.

Keep your

cooling equipment in tip-top shape by replacing filters to reduce inefficiency and save energy. Make sure vents are not blocked by furniture, carpeting or drapes to ensure your home is cooled efficiently.

Save money and energy by using

daylight to naturally light your home.

Install

solar-powered outdoor lights.
Make sure to close windows and doors when heating or cooling your home.
Keep the heat out of your home by using an outdoor grill instead of an oven.
What other small acts are you doing to save energy and protect the planet? Tweet @Energy using #MySmallAct and we'll share some of the best examples on Friday. Also, check out Energy Saver on Twitter and Facebook for more ideas on how to save energy and money this Earth Day.