You are here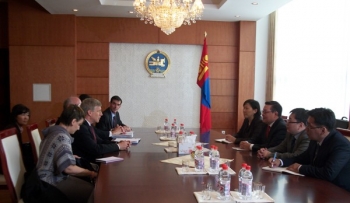 Deputy Secretary Poneman meets with Mongolia's Foreign Minister to discuss energy issues.
Last week, I traveled to Mongolia to discuss our shared energy challenges and our shared energy opportunities. The United States and Mongolia enjoy a warm friendship and deepening ties in a number of areas, including energy. The United States is committed to supporting the government and people of Mongolia as they continue to democratize. Although half a world apart, the United States and Mongolia share some common energy features: both our Nations have abundant coal resources and rely heavily on fossil resources for energy. Both Nations also have abundant wind and solar resources. These commonalities provided a strong foundation for discussions between the United States and Mongolia about how we can address our energy challenges and together build a sustainable energy future for our citizens.
During my visit, I met with senior Mongolian government officials to discuss a range of energy issues – from the potential of carbon capture and storage technologies to the importance of integrating renewable sources of energy, like wind and solar, into the electric grid. Mongolia's Foreign Minister and I signed a Memorandum of Understanding to permit cooperation on the peaceful use of nuclear energy for electric power generation. I also toured some of Mongolia's energy facilities, including a thermal power plant, to see first-hand how Mongolia has met its energy needs over the years.
My discussions last week built on already strong cooperation between the U.S. and Mongolia in the energy sector. For example, the Millennium Challenge Corporation is sponsoring an exciting energy and environment project in Mongolia's capital city of Ulaanbaatar. In the winters, many families that live in Ulaanbaatar's gers (or "yurts") burn coal in stoves to keep their homes warm – fouling the city's air. To improve air quality and public health, the Millennium Challenge Corporation is working to make gers more energy efficient, to increase the adoption of energy efficient products, and to introduce wind energy into Mongolia's electric grid. Additionally, the United States Agency for International Development has provided supplies and technical assistance to bolster Mongolia's energy sector. These are just a few examples of U.S.-Mongolia energy collaboration, and the United States looks forward to strengthening our partnership.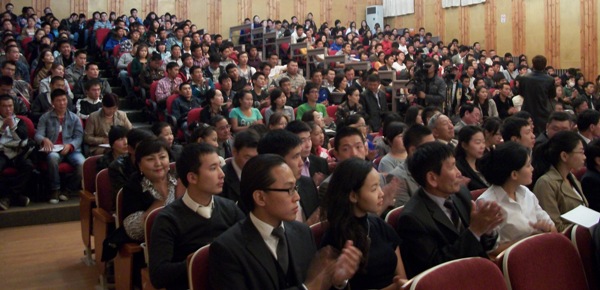 Students and faculty at the Mongolian University of Science and Technology listen to Deputy Secretary Poneman's remarks.
One highlight of my trip was speaking with students and faculty at the Mongolian University of Science and Technology. Looking out into the audience, I saw hundreds of young people who are eager to learn, to exchange ideas, and to harness the power of innovation to truly make a difference in our world. Meeting these young people inspired hope in the future prospects for the country and for our bilateral cooperation, as we seek to build a healthier, more prosperous planet.
Daniel B. Poneman is the Deputy Secretary of Energy.