There's nothing like a little dose of inspiration these days. Take a que from our four new featured STEM Rising: Women @ Energy posters and share these powerful quotes about energy careers and pursuing your dreams.
"Always remember that advancement in science requires thinking outside the box."
VIEW MORE
"Don't let anyone stand in your way."
VIEW MORE
"Find your inner strength, don't fear the unknown."
VIEW MORE
This is the second of three sets of posters in the Women @ Energy poster series on the STEM Rising website, check out the first batch here and mark your calendar for mid-October to see the next round.
Women are leading major science, technology, engineering, and mathematics programs and discoveries with the U.S. Department of Energy. These poster quotes are from our Women @ Energy series, which shares over 100 profiles of women in STEM in our agency. 
For more resources about women in STEM, visit www.energy.gov/women.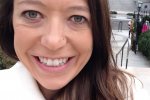 AnneMarie Horowitz
AnneMarie Horowitz has been with the Energy Department since 2010 and is a Public Affairs Specialist on the digital strategy team in the Office of Public Affairs.
more by this author