You are here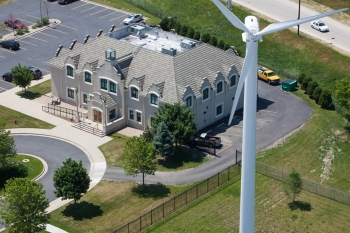 The Port of Milwaukee's wind turbine not only generates power for the Port Administration building, it also serves as a tool to educate the community about wind power. | Photo courtesy of the Port of Milwaukee.
On the shore of Lake Michigan, a 154-foot wind turbine symbolizes Milwaukee's strategic plan of moving forward with clean, renewable energy.
This month marks the one-year anniversary of when the iconic turbine began generating power. Originally built to save taxpayer dollars by supplying the electricity needs of the Port Administration building, the wind turbine goes well beyond generating the 100,000 kilowatt-hours (kWh) needed to power the building. The tower produces between 109,000 and 152,000 kWh of energy annually, and the excess energy is sold to the local utility, We Energies, saving the city and taxpayers even more money. 
In line with the Wisconsin state motto of "Forward," the city is developing the local economy around alternative fuel suppliers. During the building phase of the project, Milwaukee's Office of Environmental Sustainability requested that Northern Power -- the Vermont-based manufacturer of the turbine -- source as many services and parts as possible from Wisconsin businesses. The result: More than 10 Wisconsin-based firms contributed to the wind turbine. 
Additionally, the turbine serves as an educational tool to teach the entire community -- from school children to seniors -- about wind energy. The Port Administration building features an education center that includes an interactive display showing real-time results of the turbine's energy output and how it affects the city's budget and air quality. Much of this information can also been seen online.
In a collaborative effort, financing for the project was made possible with a Recovery Act grant from the Energy Department's Energy Efficiency and Conservation Block Grant Program, as well as grants from We Energies and Wisconsin Focus on Energy Program.