You are here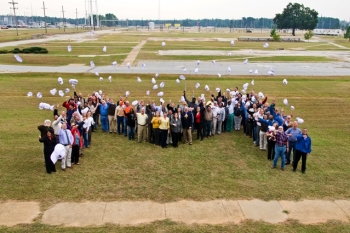 Employees of the Savannah River Site's M Area Operable Unit (MAOU) gather at the completed site.
I had the privilege yesterday to celebrate history and embrace the future at the first Savannah River Site (SRS) Area Completion under the American Recovery and Reinvestment Act.
I was one of about 250 people gathered at the M Area Operable Unit (MAOU) area completion event that marked the end of an era at SRS. During the Cold War, M Area was the site of three support buildings used to fabricate fuel targets for the Site's reactors; home to the Liquid Effluent Treatment Facility, where waste water streams were treated and packaged and the resulting residue stored; the location of a test reactor area that determined appropriate properties for fuel elements and target assemblies; and the site of a salvage yard for excess material and equipment. The 23 buildings that comprised the MAOU and served the Site during its nuclear materials production effort from 1952 to 1988 now are gone, but their history is not.
We owe the Cold War workers as well as those who contributed to the area closure a huge amount of gratitude. The project's success is attributed to all the workers and to the regulators who tirelessly streamlined the robust regulatory framework. SRS worked closely with the state of South Carolina through the South Carolina Department of Health and Environmental Control and at the federal level with the U.S. Environmental Protection Agency. I want to thank each of these people for making us proud, one more time. Their effort is what makes SRS great.
The M Area Completion Project spanned 8 years and was completed in August. The Recovery Act sped up the work by two years, achieving a 12.5-percent reduction of the SRS footprint. Under the Recovery Act Program, SRS' footprint will be reduced 75 percent, freeing the land for future reuse.
Completion of M Area means 40 square miles near the northwest border of SRS could be available for possible industrial reuse. The Department's Savannah River National Laboratory (SRNL) will also use a portion of M Area for a port security project under the Department of Homeland Security.