You are here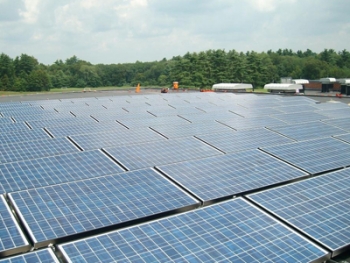 New 26 kW solar energy system to be part of curriculum at Norton Middle School. | Photo courtesy of Norton Public Schools
When the school buses pull up to Norton Middle School this year, students will see more than just their friends and teachers, they'll get a view of new - 126 solar panels on the school's roof.
"Middle schools have their own type of energy. When students get excited about something, they spread the word. They're the best sales people we have," says Dr. Patricia Ansay, superintendent of Norton Public Schools.
Using funds from an Energy Efficiency and Conservation Block Grant given to the town of Norton, the school is now home to 26 kW solar energy system that will help the school save nearly $6,000 a year in energy.
The 26 kilowatt solar power system was produced locally, with solar panels, inverters and mounting racks coming from neighboring towns of Fort Devens, Lawrence and Andover, respectively.
"The Recovery Act is about putting Americans back to work, and that's what this solar project did," says Ansay.
In addition to saving money, the project will serve as a stellar example for students in the coming years. The school has one solar panel inside the rotunda of the building, along with a monitor that displays the data on the amount of energy being generated by the solar energy system. Ansay says that math and science teachers have already begun to work this feature into their lesson plans.
"It's nice for kids to have hands-on experience. They'll have to be the stewards for energy in the future," says Ansay.
Not only will the students learn about this in the classroom, the student-run TV studio at Norton Middle School will also be producing and putting together a video about the project.
The community is also supportive of the project. While the school department has been focusing on conserving gas and energy over the past few years, Ansay says the solar panels are the "first touch of green in the Norton area."
"Just about everyone in the community has exposure to the middle school," Ansay says. "It's wonderful to be a role model for the kids, but also for their families and community."