You are here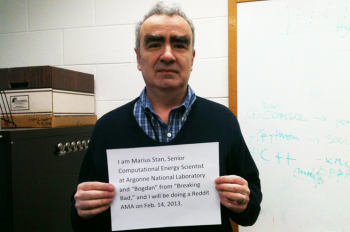 Marius Stan, computational energy scientist from Argonne National Lab, submits his verification photo as part of an informal question and answer session with Internet users on the Ask Me Anything section of the social website Reddit on February 14, 2013.
Marius Stan, a computational energy scientist at Argonne National Lab, is well respected in his field – and among fellow researchers at the lab located outside Chicago, Illinois.
To put it a little too simply, he uses computational models to test how much radiation material can handle without degrading. He's a triple threat – physicist, computational scientist, and actor. Several times a year for the past few years, Stan has headed down to New Mexico to play Bogdan Wolynetz, a character in the hit television series Breaking Bad.
He recently hosted an AMA, or Ask Me Anything, answering about 60 questions and accruing 2,500 comment karma points (an internal Reddit rating system of comments) during the two-hour question-and-answer session on the social site Reddit. Users of Reddit asked questions and Stan answered them.
He talked about his unusual crossover from scientist to actor, provided behind-the-scenes details about the show and his fellow actors, and opined about the future of nuclear energy.
According to a recent feature article on Stan, he got the role when he signed up for a general casting call in Albuquerque with his family, while working at Los Alamos National Laboratory as a postdoctoral researcher.
Creator Vince Gillian asked to see Stan specifically, asked him to read a few lines, and then brought him in a few days later to play a raucous Romanian carwash owner in the pilot episode of the show. In all, Stan ended up appearing in five Breaking Bad episodes spanning two seasons – enough to create a small following and an interesting AMA.
During the couple hours he was answering questions online, he received enough upvotes to rank highly for the afternoon on the popular /r/IAmA subreddit that boasts about 2.7 million subscribers and regularly hosts professional athletes, movie stars, and leading figures like President Obama and Bill Gates.
In the week since Stan went online to chat with Redditors, his upvotes have spiked considerably and he has a couple dozen questions still sitting unanswered. As a promise to his fans, and just because he's a good guy, he'll be returning to Reddit once again to tie up loose ends by answering questions like these:
Were you a junior scientist before you became a senior scientist?
What do you tell yourself in your mind to keep yourself from laughing while filming scenes?
So how far away do you think fusion is? 50 years or so?
How do you feel about Bogdan?
Which type of engineering do you see becoming the biggest in the coming years?
And, to answer the question, "Do people out in the street notice you from [the show]?," they do.
He said he's recognized on the street as Bogdan every so often and he's always happy to take a photo with fans. So, if you see him around, don't be shy about saying hello.
You can go back and see all the questions he already answered. And, keep an eye on the AMA article in the coming weeks for an on-going discussion with the man we know as Marius Stan – senior scientist at Argonne National Laboratory and the carwash owner with wiley eyebrows on Breaking Bad.