You are here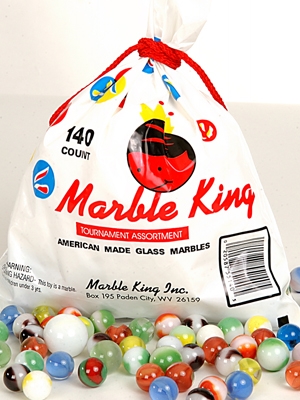 King is saving 11.8 percent a year on energy costs due to upgrades at its Paden City, W.Va., plant. | Photo Courtesy of Marble King
It takes a lot of power to produce 1 million marbles a day.
But with the help of employees who unplugged mobile phone chargers, switched off computers and trimmed the time it took to heat up lunches in the microwave, Marble King slashed its energy use, winning the Energy Department's Save Energy Now award.
The employees were "tickled to death" by the win, says Marble King's president and CEO Beri Fox.
The Paden City, W.Va.,-based company underwent a two-year energy audit by West Virginia University's Industrial Assessment Center, which recommended ways the company could cut power use. "They had multiple recommendations," Beri says. Among the suggestions: energy efficient production techniques and rebuilding the factory's aging furnace. "The rebuild on our furnace saved us up to 30 percent on heating costs," she says.
Simple changes such as installing new lighting and motion sensors helped save the company money.
"We have a big facility that doesn't always have to be lit all the time," Beri says. Exits were equipped with sensors that "light those areas as someone travels through," she says. "It's amazing what it does for overall energy usage."
Employees did their part as well by enrolling in an energy awareness program and finding ways to help each other cut down on usage.
Marble King now saves 11.8 percent annually on energy costs as a result of the changes.
Saving energy has become infectious at Marble King headquarters. Workers are helping each other reduce energy use, and the company is looking at new methods of heating recycled glass required for making marbles. "There may be a way to not have the high-powered gas for all of the melting process," Beri says.
Automated thermostats have been installed so rooms that aren't used on weekends don't waste power. "It's very important to save as much energy as we can," Beri says.
Last year, the DOE's Industrial Technologies Program recognized Marble King for its efforts and presented the company with the Save Energy Now award at a ceremony in Washington, D.C. The company, one of the world's leading marble producers, was also honored as an Energy Saver Plant.