You are here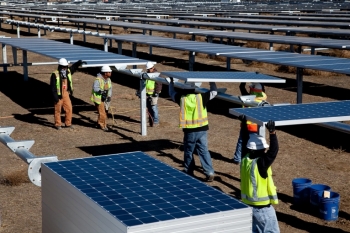 Above: The California Valley Solar Ranch, a 250-megawatt project in San Luis Obispo County, California, was made possible by a $1.2 billion loan guarantee from the Energy Department's Loan Programs Office. Its developers say the project has created thousands of jobs and put an estimated $315 million into the local economy. | Photo courtesy of SunPower.
You may have noticed a new look and functionality to the Energy Department's funding and financing resources page. This week, we launched our Funding & Financing portal -- a new online resource to help financiers and developers of energy technology and projects find the applicable program for funding and financing energy projects and businesses.
As a Senior Advisor at the Energy Department, I advise Secretary Moniz on energy finance issues. I also head the Energy Finance Working Group, a team of professionals from across the Department that coordinates the Department's activities pertaining to clean energy deployment financing. Prior to joining the Department, I spent most of my career in the private sector and have worked throughout the energy industry -- so I know that easy-to-find information is important for businesses, state and local governments and others looking to finance energy projects.
With an eye to the needs and interests of these different groups, our Energy Finance Working Group team has sectioned the portal into three parts: resources for businesses, resources for projects, and a third "additional resources" section. We have listed links and relevant information within each section on notable energy funding and financing opportunities. Below, we have listed some examples of what you can find in the portal.
If you need help financing a new energy business, you can learn about:
Federal Finance Facilities Available for Energy Efficiency Upgrades and Clean Energy Deployment: This Energy Department guide is a great resource that includes federal financing programs for clean energy deployment and energy efficiency upgrades. Conceived as a "Yellow Pages" for business owners, homeowners, investors and policy makers, this guide makes it easier for public leaders and private sector partners to find capital for clean energy projects and upgrades.
 
Technology Transfer at the National Labs: The process of technology transfer brings industry and scientific researchers together to achieve a mutually beneficial outcome in launching an energy technology. Here, you can see a licensing guide that assists small businesses and entrepreneurs with limited resources and licensing experience. It further provides assistance to individuals and companies seeking to commercialize technologies from the Energy Department's 17 National Laboratories, which are world-class scientific facilities devoted to conducting high impact, breakthrough research in the basic and applied sciences.
Need help funding or financing a new energy project? The following resources may be able to help:
Our third "additional resources" area provides links to related information and federal government programs, such as Grants.gov, the Overseas Private Investment Corporation, and the Export-Import Bank of the United States. We will continue to keep all three sections updated with the latest information.
I hope this new platform -- accessible at any time and on any mobile device at energy.gov/finance -- will help make it easier for you to access available resources for your energy business ventures and projects. It will serve as a hub for financing activities related to energy deployment at the Department of Energy. Please continue to check these resources, along with the many others available on energy.gov.