Throughout the month of March, we celebrate Women's History Month by lifting the voices and stories of women in the energy workforce and sharing snapshots of the women and gender nonbinary individuals who forged the path of breaking barriers, following their passions, and making a difference in their communities and families.  
Why We're Laser Focused
Gender equity and equality in clean energy achieves better results, provides stronger solutions, and lifts up the economy for the entire globe. Research has proven that when women succeed, our country succeeds, and diverse teams produce stronger research, solutions, and innovation.
Currently women only make up an estimated 20 percent of the clean energy workforce, indicating that America must power into overdrive to boost women's participation and tackle barriers to matching women's participation rates in the workforce overall.  
Share Some Inspiration
All you need is a stamp and a printer to share some inspiration with girls and nonbinary individuals to see themselves in STEM careers (science, technology, engineering, and mathematics). Download and print our Women's History Month 2022 Postcard Series. 
⚗️ Chemist Dr. Harshini Mukundan of Los Alamos National Laboratory in New Mexico has been conducting research that has helped address biological threats and helped doctors and patients identify bacterial infections. 
Download the postcard at the link below.
🔬 Scientist Dr. Mercedes Taylor is an Associate Professor at the University of Maryland. She's a former Jill Hruby Fellow with Sandia National Laboratories, and she designs porous materials that can act as molecular sponges, soaking up certain contaminants or valuable ions from water. 
Download her postcard at the link below.
🖥️ Engineer Amy Elliott of DOE's Oak Ridge National Laboratory in Tennessee created the world's first 3D printed vending machine and has starred on a Science Channel show! She holds several patents, and consults with industry on using proper 3D printing technologies. 
Download her postcard at the link below. 
⚛️ Physicist Dr. Jessica Esquivel of DOE's Fermilab in Illinois is a particle physicist on the Muon g-2 experiment and is an advocate for creating just and equitable spaces in physics.
Download her postcard at the link below.
📐 Nuclear Engineer Dr. J'Tia Hart is DOE's Idaho National Laboratory's Chief Science Officer. She's a cybersecurity expert, advocate for women and underrepresented minorities, and runs outreach efforts to boost diversity in the STEM sector. 
Download her postcard at the link below.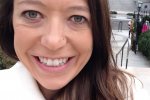 AnneMarie Horowitz
AnneMarie Horowitz has been with the Energy Department since 2010 and is a Public Affairs Specialist on the digital strategy team in the Office of Public Affairs.
more by this author