You are here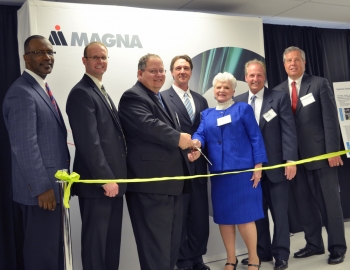 Vehicle Technologies Program Manager Patrick B. Davis gets ready to cut the ribbon at Magna E-Car's new electric drive component plant in Michigan. From left: Mike Finney - CEO, Michigan Economic Development Corporation; Gary Meyers - VP/General Manager, Magna E-Car USA, LP; Pat Davis; Kevin Pavlov - Chief Operating Officer, Magna E-Car Systems; Marilyn Hoffman, Township Supervisor, Grand Blanc Township, Michigan; Joseph Graves, State Representative 51st District, Michigan House of Representatives; Tim Herman, CEO, The Genesee County Chamber of Commerce. | Photo courtesy of Magna E-Car.
New beginnings are always exciting. I had the opportunity to experience one just last week when Magna E-Car held a grand opening for its new electric drive component plant in Grand Blanc Township, Michigan. The Energy Department supported this plant  with a $40 million Recovery Act award, which was matched by Magna. This plant opening is an important step forward in furthering President Obama's goals of building a domestic advanced vehicles industry, decreasing dependence on foreign oil, lowering emissions, and saving consumers money.
At 50,000 square feet, the plant can manufacture a variety of electric drive system components in high-volume under one roof. Employing more than 100 people, the plant will manufacture electric motors, converters, powertrain controllers, and battery chargers. As early as next year, the facility will have the capacity to annually produce 500,000 electric drive vehicle components in total. This level of production will provide a significant boost to the supply chain and will be key to increasing the number of hybrid, plug-in hybrid and all-electric vehicles on the road.
In addition to the components it currently produces, the Magna facility has the ability to expand its manufacturing to include high voltage accessories and battery packs in the future. With this expansion, the factory could produce complete vehicle drivetrains, allowing it to meet demand as the market for electric drive vehicles grows.