A floating platform, simple turbine and tropical oceans could be the key to producing 30 percent or more of the total energy the world consumes today, according to Lockheed Martin. The technology in play: Ocean Thermal Energy Conversion (OTEC).
Lockheed Martin is developing a design for an OTEC system that would produce megawatts of electricity using the temperature difference between warm water at the surface of the ocean and the cold water deep below.
An ocean thermal energy conversion is essentially a thermodynamic heat system, according to Lockheed Martin's OTEC capture manager Rob Varley. "Instead of burning coal, we use warm surface water."
Although the system will feature new technology, such as special cold water piping, energy will be generated by a simple turbine.
"It works very much like the heat pump in your home," Varley said.
Warm surface ocean water will be pumped through a heat exchanger where liquid ammonia will evaporate — rotating turbines and producing electricity for cities and military bases.
Cold water will then pass through another heat exchanger, condensing the vapor back to liquid, thus completing a closed cycle.
The company is designing a 5 to 10 megawatt pilot OTEC plant to sit on a floating offshore platform. Cost estimates range from $150 million to $250 million and the company has received a total of $10.2 million over the past two years from the U.S. Navy and the Department of Energy to develop parts of the technology.
Hawaii first in pilot
Lockheed Martin is seeking to build the initial pilot plant off the coast of Hawaii. Since the temperature difference between surface and deep water there is sufficient (about 20°C), the state is an ideal location for initial OTEC plants. Other factors include Hawaii's numerous military bases, which have ambitious renewable energy goals, and the state's reliance on oil. Lockheed Martin estimates that the plant could be operational by 2014 or 2015.
The success of the pilot phase could result in starting construction of bigger 100 MW plants by 2015.
"The massive scale of the resource makes it an attractive resource to commercialize," Varley said.
Development and mapping
Lockheed Martin began developing specialized composite piping for obtaining cold water in 2007 and received help from a $1.2 million DOE award in 2008.
In 2009, Lockheed Martin won an $8.1 million contract from the Navy to continue developing the OTEC pilot plant design, which included creating a robust interface between the platform and cold water piping.
The company recently received two grants totaling $1 million from DOE to accelerate the commercialization of OTEC and seawater-based air conditioning (SWAC) on a large scale. SWAC uses cold water extracted from the ocean to cool buildings on the shore.
One grant will go towards creating a tool that will map the world's oceans to find the most ideal locations for OTEC and SWAC and estimate potential energy that can be generated at those locations. Florida Atlantic University and the University of Hawaii are teaming up with Lockheed Martin to build the database. The data will be validated by the National Renewable Energy Laboratory (NREL), which will store the maps.
The maps will help illustrate the feasibility of OTEC and SWAC systems for lawmakers and energy industry leaders.
With the second grant, Lockheed Martin and their ocean energy industry partners seek to provide accurate cost estimates of large scale OTEC projects.
Varley said upfront investments in OTEC technology will pay off with energy savings. "We are expecting it to be economically competitive initially in markets like Hawaii where energy costs are high."
After the Hawaii plant is completed, Lockheed Martin plans to build OTEC facilities in other warm water locales.
"We are expecting to be able to get into the Florida market," Varley said.
Varley said commercial OTEC plants will provide new opportunities to expand America's green energy economy and create thousands of high tech jobs in fields such as engineering, construction, operation and maintenance.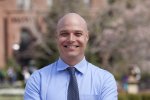 Paul Lester
Paul Lester is a Digital Content Specialist in the Office of Public Affairs. Paul was born in Ohio but spent most of his life in Florida, where he worked as news researcher/archivist and online editor for the Orlando Sentinel.
more by this author