You are here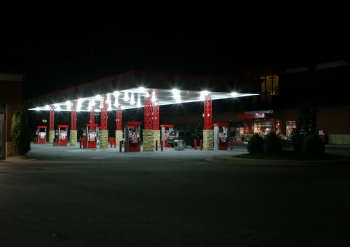 One of several Georgia convenience stores that improved lighting while saving energy and money. | Courtesy of Outlaw Consulting, Inc.
Convenience stores across Georgia are saving energy thanks to energy efficient lighting upgrades made possible by Recovery Act funds from the State Energy Program and the Georgia Environmental Finance Authority. As a result of this partnership, the Georgia Association of Convenience Stores (GACS) implemented lighting efficiency improvements to participating convenience stores across the state, the first of which has already saved over $7,000 in the first year after the retrofits, along with over 54,000 KWh, approximately the amount of energy used by five American homes over a year.
GACS received a grant to implement lighting efficiency improvements that have a quick payback period and to establish a revolving loan fund to finance projects in the future. Participating stores completed the upgrades with no up-front costs, allowing store owners to pay back into the fund the estimated savings that occur over the 18 month period following installation. Already, more than 30 convenience stores have improved their lighting, including interior lighting, cooler (or refrigerator) door lighting, and outdoor canopy lighting. 
The retrofit fund promotes energy efficiency steps with quick payback periods. Initially, installers found that canopy lights were commonly used across the stores and the most difficult to get a quick payback. A canopy light improvement was first tried at a convenience mart in Savannah. The solution for this location, which already contained 50 canopy lights (more than needed for the area), was to reduce the amount of lamps to 38 -- reducing electricity consumption by approximately two thirds.  
But aside from simply reducing the number of LED canopy lights at any given store, the real energy-saving breakthrough came at a convenience center in Peachtree City, where an induction lighting solution was found for canopy lights that fit payback requirements. Induction lighting is a light source in which the power required to generate light is transferred from outside the lamp envelope to inside via electromagnetic fields, in contrast with a typical electrical lamp that uses electrical connections through the lamp envelope to transfer power. The benefit to using induction lighting is an extended lamp life and higher efficiency due to smaller, light-generated substances. The retrofitters developed, tested and successfully implemented a specially-made induction lighting retrofit kit for the typical metal Halidecanopy lights, a solution that reduced electricity consumption and cost far less than the LED solutions on the market.
 "Replacing an existing fixture is costly, but an inexpensive induction retrofit solution cuts energy use by 70 percent," said John Noel of Energy and Environment LLC, the company chosen to provide retrofit solutions to participating businesses. "Retrofitting such a fixture makes sense with a compelling return on investment and the maintenance savings of the longer-life induction product."
Not only do these retrofits result in significant savings in energy and energy costs, but the implementation of this new retrofit lighting solution will continue to provide cost-effective convenience store lighting far into the future. 
Jim Tudor, president of GACS, knows the positive impact programs like SEP can have on small businesses and communities around the country. "Programs such as this are a real benefit to the small business owners who operate the majority of convenience stores in the state, bringing them expertise and savings that would not normally be available to them."