You are here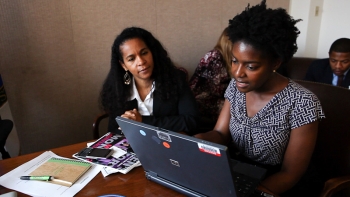 The Energy Department's Dr. Karina Edmonds and Erin Pierce talk to thousands as part of the Women in STEM Tweet Up on March 22, 2012. | Photo credit: Quentin Kruger | Energy Department file photo
We recently held a Tweet Up about women in science, technology, engineering, and mathematics (STEM).  During the event,  experts in STEM wrote more than 1,500 tweets as part of a conversation about the challenges they've faced, who and what inspires them,  and what we can be doing to close the gap for women in STEM fields.
Among those co-hosting were women from the Energy Department, Argonne National Lab, NASA, NOAA, the U.S. Department of Agriculture, the Environmental Protection Agency, the Department of Education, the White House Initiative on Asian Americans and Pacific Islanders, the Department of Labor, and Congresswoman Eddie B. Johnson's office. The number and diversity of voices involved, with over 13 million tweet impressions, shows all of us have a stake in addressing the STEM gender gap. Everyone has a role to play.
Below, the Energy Department's Dr. Karina Edmonds answers questions that came in after the event. We hope you'll keep sending your thoughts and questions to us and keep talking about these important issues.
Question: What is the most successful method for encouraging girls to explore science careers?
Dr. Karina Edmonds: I believe there are a number of very effective ways.  First and foremost is exposing them to STEM careers from an early age, avoiding stereotyping girls and their interest, encouraging girls to pursue interests in math and science, and providing strong role models for them to emulate.
Q: Why don't we have many women professors in STEM and what are we doing to increase these numbers?
KE:  In general there are much fewer women in STEM in the general workforce, so you would expect the same gap in terms of faculty positions.  In the past, women often had to choose between a career in academia or a family, but many funding organizations and university are acknowledging that the tenure process does not engender itself to women in general.   Recently, the White House announced a series of steps that the National Science Foundation will take to keep women from having to make a choice between work and home.
Q: How flexible is a degree in any #STEM field?   
KE: A degree in STEM is as flexible as you can get.  Most jobs will value the analytical and problem solving skills taught in STEM fields.   Technology is not going away anytime soon, so the more these fields prepare us to handle complex problems the better the world will be.
Q: My daughter is in the ninth grade and she takes Honor Science, how do I get her connected to the STEM Program?
KE:  Find programs in your area that focus on math, science, engineering and computers where she can connect with like minded girls (use the Internet if need be).  Expose her to role models in STEM fields to encourage and motivate her to pursue her interest in STEM.
Q: During the Tweet up, you stated that women hold 27% of STEM jobs.  I have been trying to hold a position in my field since 1980.  Once I get a permanent position, I stay there because just getting an interview is extremely difficult because I am a woman. I am in the mechanical engineering and CAD field (computer aided drafting and design).  I worked my way up from manual drafter, to machinist, then back to school to get my Bachelors degree in Manufacturing Technologies with 2 children and a husband at home only to struggle through the men who laugh at me when I say I can do a specific job.
KE: It is only with trailblazers like yourself that we will pave the way for women everywhere to find a place in STEM.   Do not be discouraged and fight on!
Q: Where are the best places to work as a #STEM woman?
KE:  Any place that values the unique prospective you bring to the table.  Of course being a women in STEM, your opportunities are endless.