You are here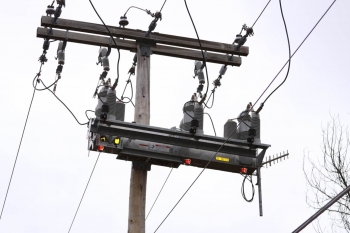 EPB's $226 million Smart Grid Investment Grant project, part of the Energy Department's Recovery Act funding has allowed upgrades on its distribution system and the installation of "smart" switches and sensor equipment for 164 distribution circuits as well as the deployment of approximately 1500 smart switches system-wide. Thanks to these smart grid technologies, EPB saved thousands of hours of outage time for their consumers. | DoE photo
The Office of Electricity Delivery and Energy Reliability (OE) recognizes the importance of sharing information between consumers, utilities and the various governing bodies that take part in the modernization of our electrical grid. Smart grid technologies have the potential to transform the way that we interact with the grid. But to maximize the benefit we derive from these technologies, everyone needs to understand what the process means for them. 
I was in Charlotte, North Carolina, last month for the Southeast regional grid modernization peer-to-peer workshop, the third in a series of regional workshops designed to facilitate dialogue among early adopters of smart grid technologies. Over the two-day workshop, nearly 200 attendees heard success stories and lessons learned from smart grid deployments throughout the Southeast. Attendees also heard great presentations by Mayor Anthony Foxx from Charlotte and Mayor Ron Littlefield from Chattanooga, TN. Both of these leaders are taking advantage of smart grid technologies to move their communities closer to a more efficient and reliable electric infrastructure. 
What struck me most wasn't just the progress being made, but the way in which the grid modernization process is changing the relationships between everyone involved. Many of the attendees represented awardees from our Recovery Act programs, and while they demonstrated success in their work, there was a consistent theme of community involvement as essential to that success. Here are a few lessons that stood out from the experiences shared during the workshop.
Community Organizations – The most successful smart grid programs place a premium on engaging their customers.  In New Orleans, Entergy went one step farther and reached out to local non-profit organizations. By educating the people in those organizations, and allowing them to share their knowledge among the community, Entergy was able to reach more people than if they reached out directly. Customers were given a choice of their level of interaction, and many of those that chose less interaction came back and requested more training.
Respond to Customers – Smart technologies provide customers with more information about their usage; some want to actively manage their energy use and some don't. Wake EMC in Wake Forest, NC, works with their customers through a web portal to understand their general usage pattern, and provides a recommended configuration for their homes. The customer can then apply the recommended settings for their home appliances once, and realize benefits without actively managing their use.
Continuous Education – Jumping ahead by several generations of technology requires continuous education. Power companies realize that educating their employees, everyone from the CEO to the line workers, is key to managing a seamless transition to smart grid deployment and deriving the best possible benefits. Talquin Electric Cooperative in Florida serves a rural area and historically had most residential customers read their own meters every month and then send the information to the company via U.S. mail. When Talquin decided to modernize its system, the company first emphasized educating employees at all levels in the company before reaching out to customers. Talquin is finishing the installation of advanced meters for all 56,000 of its customers – each of whom will be able to access their usage data and communicate directly with the company through a web portal. Having the advanced technology in the community has already saved 11,000 visits by Talquin employees responding to outages and other customer issues. 
Operational Efficiency – Utilities that have installed smart technologies have seen reductions in both the frequency and duration of power outages. Progress Energy reported that they have been able to avoid using two generators because they are able to control system voltage and reduce demand without affecting performance. A major benefit of smart grid technologies is a more efficient, reliable system.
I would like to express my thanks to the co-hosts of the workshop, Duke Energy and Progress Energy, to Mayor Littlefield and Mayor Foxx, and to all of the panelists and attendees. The goal of these workshops is to share lessons learned about smart grid technology deployment to help replicate successes, none of which is possible without their efforts.
These meetings are critical to our collective success in modernizing America's electricity infrastructure, which is a top priority of the government and central to our future prosperity. They help foster productive communication within stakeholder groups, provide a forum to share lessons learned, and help keep us informed of any ongoing challenges.
Modernizing the grid is a complex task for which there is no "one size fits all" solution. And a lot of work remains to be done. As we continue on this journey, we will continue reporting – via the Energy Department blog as well as the Smartgrid.gov and Office of Electricity Delivery and Energy Reliability web sites – on the innovative solutions that are being implemented around the country.