You are here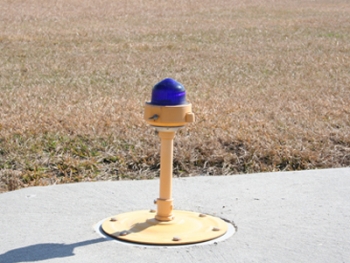 Hammond, La., airport is replacing the existing incandescent taxiway lights (pictured) with LEDs. | Photo courtesy of Hammond Northshore Regional Airport
Energy efficiency is taking off at the airport in Hammond, La., about 70 miles north of New Orleans.
About 250 lights along the busy taxiway at Hammond Northshore Regional Airport are being replaced with light-emitting diodes (LEDs) with funds from an Energy Efficiency and Conservation Block Grant (EECBG) from the U.S. Department of Energy.
The effort in Tangipahoa Parish's largest city will save the airport between $10,000 to $15,000 a year on electric bills, cut down on energy use and solve a lingering problem for aviation officials.
A five year question answered
The airport is replacing inefficient, incandescent lamps on the taxiway. The lights had to be replaced often.
To maximize the efficiency of the lights, the airport considered two scenarios: keep the taxiway lights on all night or shut them down and only turn them on for landings.
"It's been the question for the last five years," says airport manager Jason Ball. "Do you choose to pay the electric bill for leaving them on all night, or do you take the chance, shut them off and end up blowing more bulbs when you fire them up again?"
After the LEDs are installed, airport officials won't have to make that choice. LEDs have a greater life expectancy than conventional incandescent lamps, which Ball says were replaced about every six months. The LEDs for the airport can last up to 200,000 hours, about 23 years.
"I don't think we'll change them for a long time—probably not as a long as I'm here," Ball says.
Ball says the electric bill for the airport is about $40,000 a year and hopes to shave about $10,000 to $15,000 off of that after the new LEDs are installed. Replacing the transformers with more energy-efficient ones is next on the list and will save the airport even more money, Ball says.
Air traffic consists of mainly corporate jets and small, recreational aircraft. The airport sees about 250 landings and 250 take offs each day.
The parish allocated the funds—along with another EECBG award from the Louisiana state energy office worth $484,000—to its eight municipalities under president Gordon Burgess. Most of the energy upgrades will be performed on government buildings.