You are here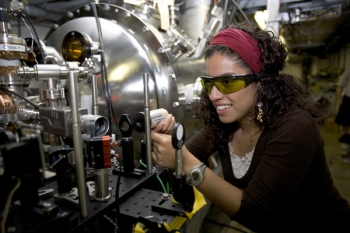 Michelle Alvarado worked on diagnostic software to monitor a laser beam at the AZero photo injector at Fermilab. | Photo courtesy of Fermilab.
From creating a star on Earth to 3D printing a sports car, National Labs are pushing the frontiers of research and spurring the creation of brand new industries. All of the Department of Energy's National Labs offer promising students an outstanding opportunity to experience what it's like to work at one of the 17 National Labs.
Students can gain research experience in areas ranging from chemistry, physics, engineering, biology, nuclear medicine, applied mathematics and high and low-energy physics. Internships and fellowships not only develop marketable skills that can pay dividends in school and on the job hunt; they also present an opportunity to build relationships with mentors whose advice and support can be valuable long after an internship ends.
If you or someone you know is a student interested in science, technology, engineering or math, explore the opportunities at the National Labs today. Some deadlines are fast approaching, so check out the links below and apply today.
Note: If a lab has more than one location, the primary one is listed below.
Ames National Laboratory
Ames, Iowa
Argonne National Laboratory
Argonne, IL
Brookhaven National Laboratory
Upton, NY
Fermi National Accelerator Laboratory (Fermilab)
Betavia, Illinois
Idaho National Laboratory
Idaho Falls, ID
Lawrence Berkeley National Laboratory
Berkeley, CA
Lawrence Livermore National Laboratory
Livermore, CA
Los Alamos National Laboratory
Los Alamos, NM
National Energy Technology Laboratory
Pittsburgh, PA 
National Renewable Energy Laboratory
Golden, CO
Oak Ridge National Laboratory
Oak Ridge, TN
Pacific Northwest National Laboratory
Richland, WA
Princeton Plasma Physics Laboratory
Princeton, NJ
Sandia National Laboratory
Albuquerque, NM
Savannah River National Laboratory
Aiken, SC
SLAC National Accelerator Laboratory
Menlo Park, CA
Thomas Jefferson National Accelerator Facility
Newport News, Virginia
*Editor's Note: Department of Energy Public Affairs Intern Elliot Sakach contributed to this blog post.