You are here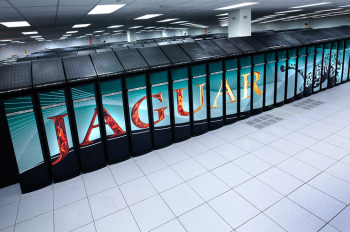 Supercomputers like this petascale computer, Jaguar, at Oak Ridge National Laboratory are helping researchers build and experiment with next-generation nuclear reactors. Jaguar powers the virtual reactor at the Consortium for Advanced Simulation of Light Water Reactors (CASL). | Photo courtesy of Oak Ridge National Lab.
This Wednesday, September 19, at 1:30 p.m. EDT, three leaders in the field of advanced computing will participate in #LabChat: Supercomputing Our Way to the Future. These researchers participated recently in the Workshop on the Grand Challenges of Advanced Computing for Energy Innovation, a gathering of scientists, engineers, and industry professionals attempting to widen the use of supercomputing in generating, delivering, storing, and using energy.
Argonne National Lab nuclear engineer Dave Pointer will be tweeting from the Lab's Twitter account, @Argonne. Pointer designs new nuclear reactor technologies with an array of modeling and simulation tools. Ask him questions about the high-performance modeling and simulation that is going into the next generation of nuclear reactors, or the color of his signature mohawk.
Oak Ridge National Laboratory virtual reactor lead John Turner will be tweeting from @OakRidgeLabNews. Turner builds simulation tools for large-scale, high-performance computing solutions for the nation's energy generation and storage. He runs virtual reactor integration at the Consortium for Advanced Simulation of Light-Water Reactors (CASL), which uses one of the world's most powerful supercomputers to develop the next generation of nuclear reactors. Ask him about his work with immersive 3D technology, working with the supercomputer Jaguar, or his previous work on the original petascale computer, Roadrunner.  
National Energy Technology Laboratory computational science division director Chris Guenther will be tweeting from @NETL_News. Guenther uses virtual models to make industrial-scale fossil fuel power production methods more efficient. Ask him questions about his multiphase flow research in fossil fuel efficiency, the current state (or future) of open source software, or how his software applies to volcanoes. Guenther talks more about his open-source in the Lab Breakthrough video, Building Industry-Scale Machines in a Virtual World.
Can't make it to the tweetchat? Use #labchat in a tweet anytime between now and the tweetchat, and the researchers will address your questions or comments. The tweetchat will be moderated by @energy, so even if you don't use Twitter, you can e-mail your questions. We'll pass them along during the tweetchat. We will also pass along questions and comments posted on Facebook.