You are here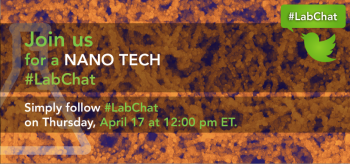 This month on Energy.gov, we're highlighting the science of the very fast and very small. Join us this Thursday at noon ET on Twitter as scientists from three of the Energy Department's National Labs explore the science of the very small -- nanotechnology.
Nanotechnology is science, engineering and technology conducted at the nanoscale, which is about 1 to 100 nanometers. To get a sense of how small that is, realize that there are 25.4 million nanometers in an inch.
Research conducted at the nanoscale allows scientists to customize new materials with specific properties, such as higher strength or lighter weight. The potential benefits of research in nanoscience are wide ranging -- from public health to energy storage and more.
For the #LabChat, we'll be joined by Dr. Jim Schuck, Director of the Imaging and Manipulation of Nanostructures Facility at Berkeley Lab's Molecular Foundry; Dr. Adam Rondinone, Task Leader for Catalysis and Industrial Liaison at Oak Ridge National Lab's Center for Nanophase Materials Sciences; and Dr. James Dickerson, Assistant Director for the User Program and External Affairs at Brookhaven National Lab's Center for Functional Nanomaterials. All of these scientists are leaders in the field of nanoscience and look forward to answering your questions.
Between now and Thursday, submit your questions about nanotechnology to @energy on Twitter using #labchat, leave a comment on Facebook.com/energygov, or send an e-mail to newmedia@hq.doe.gov. Then, join us this Thursday at noon ET on Twitter for the chat.