You are here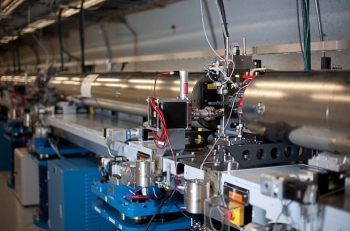 SLAC's linac accelerates very short pulses of electrons to 99.9999999 percent the speed of light through a slalom that causes the electrons to emit X-rays, which become synchronized as they interact with the electron pulses and create the world's brightest X-ray laser pulse. | Photo by Brad Plummer, SLAC.
This Thursday at 1 p.m. EST, four particle accelerator scientists open their doors to answer your questions and discuss discovery science on #labchat in the first Lab Breakthrough Office Hours.
You may not realize it, but there are 30,000 particle accelerators, or 'atom smashers,' in use worldwide with myriad uses in manufacturing, scientific research and medicine. The researchers featured in this first Office Hours tweetchat are discovering the smallest components of atoms, capturing the explosions that happen in the 'atom smashers,' and making enormous advancements in accelerator technology itself.
Fermi National Accelerator Lab's associate director for accelerators Stuart Henderson will be tweeting from @FermiLabToday. Fermilab's discoveries include the top quark, bottom quark and the tau neutrino. Dr. Henderson can answer questions about Fermilab's work, the subatomic workings of the universe, or his 20 years of accelerator work at Oak Ridge, Cornell and Yale. He also stars in the Lab Breakthroughs video and Q&A here.
Thomas Jefferson National Accelerator Lab scientists Gianluigi Ciovati and Pashupati Dhakal will be tweeting from @JBLAB. They developed a process to make accelerators more powerful and efficient. To make an instrument better, you need to know exactly how it works. Drs. Ciovati and Dhakal can answer your questions about how accelerators work, their specific uses, and absolutely anything about the element niobium. Their Lab Breakthroughs video and Q&A are here.
One of the scientists from the accelerator team at the Stanford University-operated SLAC National Accelerator Lab will be tweeting from @SLACLab. SLAC has a few big instruments that examine the infinitesimal, including the Linac Coherent Light Source, which captures images at the atomic level with a 'shutter speed' measured in trillionths of a second. Their Lab Breakthrough video is here.
This Office Hours tweetchat is part of the Lab Breakthrough video series, which highlights the incredible technological feats accomplished in fundamental and applied research. Check out the Q&A's with other Lab Breakthroughs researchers on the energy.gov topic page or see the full video series on the Lab Breakthrough YouTube playlist.
Can't make it to the tweetchat? Use #labchat in a tweet anytime between now and the tweetchat, and the researchers will address your questions or comments. The tweetchat will be monitored by @energy, so even if you don't use Twitter, you can e-mail your questions. We'll pass them along during the tweetchat. We will also pass along questions and comments posted on Facebook.