You are here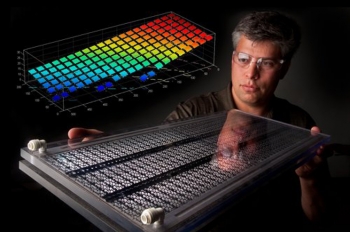 National Renewable Energy Laboratory engineer Eric Kozubal examines a prototype air flow channel of the DEVAP, a novel concept that uses membrane technology to combine the efficiency of evaporative cooling and the drying potential of liquid desiccant salt solutions. The graph superimposed on the photo shows shows how hot humid air, in red, changes to cool dry air, in blue, as the air passes through the core.
This Thursday at 2 p.m. EDT, three inventors of groundbreaking energy efficiency technology will be available on #LabChat Office Hours: The Market Potential of Energy Efficient Technology.
This week, we have three inventors from the National Labs each who developed technology that you're likely using right now – or you may use one day.
Ames National Laboratory senior metallurgist Iver Anderson will be tweeting from @Ames_Laboratory. He invented an alternative to the lead-based solder that's integral to modern electronics. More than 15 years later, it now holds the record as the top-earning license at Ames Lab with $38.9 million in royalties at last count. Dr. Anderson can answer your questions about metals, the environmental impacts of lead in landfills, and the road to commercializing product now used by 53 companies in 13 countries. He talks more about the discovery in the video and Q&A: Lab Breakthrough: Lead-free Solder.
Pacific Northwest National Lab engineer Alan Zacher, and the lab's 2011 Inventor of the Year, will be tweeting from @PNNLNews. He found a way to replace a petroleum-based compound common in many consumer product goods with a plant-based alternative. He was then integral in working with industry to build a 200,000-gallon pilot plant to produce the substance. Zacher can answer questions about chemical archaeology, converting biomass to gasoline, or about how his team took their invention and helped establish an entire pilot plant for its production. He stars in the video and Q&A: Lab Breakthrough: ADM Leads to Petroleum-Free Glycol Production Facility.
National Renewable Energy Laboratory engineer Eric Kozubal will be tweeting from @NREL. He is one of the engineers responsible for combining two types of technology into the most energy efficient air conditioning system on the market. Right now, it's in the process of commercialization. You can ask him about the current state of the commercialization process, the (very cool) future of cooling buildings, or exactly how a 'desiccant enhanced evaporative air conditioning' works. He and his co-inventor talk about the mechanics and effects of this advanced AC prototype in the video and Q&A: Lab Breakthrough: Desiccant Enhanced Evaporative Air Conditioning.
This Office Hours tweetchat is part of the Lab Breakthrough video series, which highlights the incredible technological feats accomplished in fundamental and applied research. Check out the Q&A's with other Lab Breakthroughs researchers on the energy.gov topic page or see the full video series on the Lab Breakthrough YouTube playlist.
Can't make it to the tweetchat? Use #labchat in a tweet anytime between now and the tweetchat, and the researchers will address your questions or comments. The tweetchat will be moderated by @energy, so even if you don't use Twitter, you can e-mail your questions. We'll pass them along during the tweetchat. We will also pass along questions and comments posted on Facebook.