You are here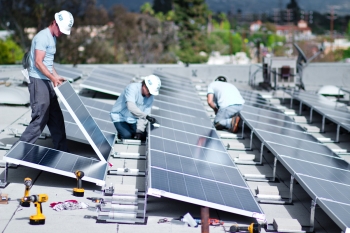 Installing a rooftop solar array as part of Los Angeles County's Feed-in Tariff program. | Photo courtesy of the Los Angeles Business Council.
With 1 billion square feet of rooftop space and more than 300 days of sunshine -- Los Angeles has all the makings of a leading solar hub. Now, an innovative program is leveraging these resources to accelerate the county's transition to the forefront of solar innovation.
Today, the Los Angeles Feed-in Tariff program -- the largest rooftop solar program in the nation -- celebrates the completion of its first solar installation. The program incentivizes businesses to install solar arrays on rooftops across Los Angeles to generate clean, renewable electricity. Participating business are offered a 20-year contract to sell the solar energy they produce to the Los Angeles Department of Water and Power at a set price.
The project that comes online today sits atop the roof of a multi-family apartment building in San Fernando Valley. In total, the installation is expected to generate about 141,600 kWh of clean electricity to power area homes and businesses every year. Beyond boosting clean energy generation, the project is also impacting the local economy. Solar Provider Group -- the company leading the installation -- has invested more than $1 million in Los Angeles since the project launch. By the end of 2016, Solar Provider Group expects to invest up to $50 million into the local economy.
This first installation is only the beginning, LA's feed-in tariff will support 150 MW of solar energy from rooftops across Los Angeles. Over the next several years the program is expected to create 4,300 jobs and generate $500 million in private investments.
The steady progress of this rooftop solar program is much more than a local success story. As President Obama outlined in his speech yesterday, producing more electricity from clean energy sources -- including wind, solar and geothermal -- is vital to America winning the global clean energy race. Over the past four years, electricity generation from wind and solar has doubled. Still to ensure America leads the way for clean energy jobs, innovation and economic growth, continued support for and a focus on clean energy will be critical.
For now, we take a moment to celebrate this milestone project in Los Angeles and support opportunities for more communities across America to follow suit.