You are here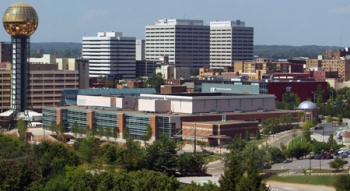 Knoxville's energy improvements are expected to save the city $1.5 million a year in utility costs | Photo courtesy of the City
Knoxville, Tennessee, will save millions of dollars and reduce its energy consumption and carbon emissions thanks to a $13 million deal with Massachusetts-based energy services company Ameresco.
The project is structured as an Energy Services Performance Contract, which means that the energy savings realized by the city will fully pay for the cost of the upgrades.
The city plans to upgrade 99 of its buildings, as well as 37 athletic fields and three public golf courses, by installing energy efficient lighting and solar panels, increasing water conservation efforts, making HVAC improvements and replacing boilers, among other things. The improvements are expected to save the city an average of $1.5 million a year in utility costs, and those savings will be used to pay off the upgrades. That will save taxpayer money in the long run and pay off the $13 million project in 13 years.
Because Knoxville was designated a DOE Solar America City in 2008, city leaders are particularly excited that the contract provided an opportunity to install a large solar photovoltaic array atop the Knoxville Convention Center.
"It'll be very visible in the downtown area, which is good for raising awareness about solar energy, a key goal of our Solar America Cities Program" Erin Burns, Knoxville's sustainability coordinator, says. "It's also a great symbol of how well the Ameresco project allowed us to achieve significant energy savings and upgrades without a lot of financial risk and up-front cost."
In addition to the contract with Ameresco, Knoxville also received a $2 million Energy Efficiency and Conservation Block Grant through the Recovery Act. Part of that funding that will be used for other upgrades Ameresco's initial energy audits had suggested but for which the city otherwise wouldn't have had the money.
Editor's note: This story was updated on August 3, 2010 to reflect lower costs and improved ROI, as provided by Jacob Tinsinger, Sustainability Coordinator for the City of Knoxville.