Last week, we announced that the Energy Department's Ames Laboratory will lead the new Critical Materials Hub -- a research effort to address supply disruptions for rare earths and other critical materials. But you might be wondering: what are critical materials? We will be answering that question and more during our first Google+ Hangout.
Join us on Tuesday, Jan. 15, at 3:00 pm ET for a live discussion -- which will be streamed on Google+, YouTube and energy.gov/live -- on critical materials.
During the discussion, experts will explain what critical materials are, why they are important, and what role the new Critical Materials Hub will play in accelerating the clean energy economy.
We will be taking your questions on critical materials in advance and during the Hangout. Submit your questions by emailing newmedia@hq.doe.gov, posting in the comments on the Energy Department's Facebook page or Google+ event, or tweeting @ENERGY using #askEnergy.
David Sandalow, DOE Assistant Secretary for Policy and International Affairs, will kick off the conversation. Sandalow helps oversee the Department's renewable energy, energy efficiency, fossil energy, nuclear energy and electricity delivery programs, and manages international activities at the Department. He is also one of the Department's leading critical materials experts and directed the 2011 Critical Materials Strategy. He can answer questions about the Department's interest in this important issue and what the Energy Innovation Hubs are all about.
Assistant Secretary Sandalow will be joined by Alex King, the new director of the Critical Materials Hub. Originally trained as a crystallographer and electron microscopist, King has worked on materials used in applications ranging from nuclear reactors to microelectronics. King is currently the director of the Ames Lab -- the leading rare earth research center in the United States. He can answer questions about what the new Critical Materials Hub will do and how they are approaching the entire lifecycle of critical materials.
Steven Duclos, from GE Global Research, will provide insight into GE's roles both in helping with Hub research and as an industry partner, bringing new technologies and developments from the Critical Materials Hub to the marketplace. As a Chief Scientist at GE Global Research, Duclos has developed a process to evaluate risks related to materials scarcity, as well as a systematic strategy for the company to mitigate these risks. A key element to this strategy includes technology development as it relates to the efforts of the Critical Materials Hub.
We look forward to answering your questions on Tuesday!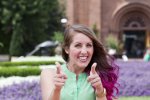 Rebecca Matulka
Served as a digital communications specialist for the Energy Department.Served as a digital communications specialist for the Energy Department.
more by this author