You are here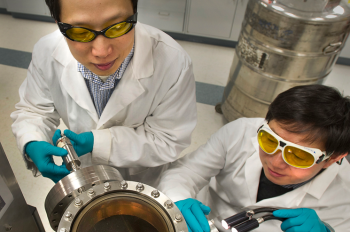 Brookhaven physicists Weidong Si (left) and Qiang Li look into the vacuum chamber where the new high-field iron-based superconductors are made through a process called pulsed-laser deposition.
The road to a sustainably powered future may be paved with superconductors, particularly if they're built with the high-performance iron-based wire created by researchers at Brookhaven National Lab.
By raising the operating temperature for the material and manipulating it to carry tremendous current under exceptionally high magnetic fields, this new wire may help meet growing global energy demands.
Even though the energy infrastructure would benefit tremendously from incorporating newelectricity generation, storage, and delivery technologies, strict limits on temperature, high manufacturing costs, and the dampening effects of high-magnetic fields currently impede widespread adoption.
A recent publication by Brookhaven researchers demonstrated that the uniquely layered wire outperforms competing low-temperature superconducting wires while avoiding the high manufacturing costs associated with high-temperature superconductor (HTS) alternatives.
The major breakthrough: This film material can conduct more electricity in a wide range of technologies while using less energy to cool down the superconducting wire thanks to iron chalcogenide-based superconducting films.
In some cases, capacity thresholds rose 30 percent over the same compound made without this layering process. When tested, the critical current density of the newiron-based superconductor reached more than 1 million amperes (amps) per square centimeter, which is several hundred times more than regular copper wires can carry over the same area.
Copper-oxide (cuprate) high-temperature superconductors are a leading candidate for advanced energy applications, but their ceramic-based materials are very brittle and require a complicated and expensive multilayer synthesis process.
Brookhaven's iron-based superconductors, however, are mechanically semi-metallic and therefore considerably less fragile.
They also have physical characteristics allowing for easier technology integration, meaning lower cost. In addition, raw materials (iron, selenium, and tellurium) are relatively inexpensive, and the synthesis process itself can be performed at just half the temperature of alternatives, or approximately 400 degrees Celsius.
These custom-grown materials carry tremendous current under exceptionally high magnetic fields, operate at higher temperatures, and cost less than its nearest competitor. The next step is to pinpoint the mechanism behind the findings -- the relationship between the structure and properties -- which will provide guidance for the next generation of wind turbines, magnetic resonance imaging (MRI) machines, and even particle accelerators.