You are here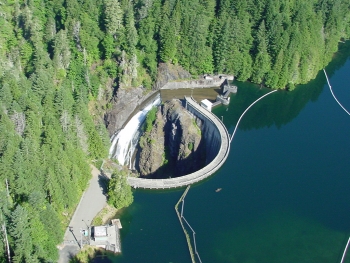 Tacoma Power's Cushman Hydroelectric Project installed a new two-generator powerhouse that increases electric generation capacity by 3.6 megawatts and captures energy from previously untapped water flows. | Photo courtesy of Tacoma Power.
Hydropower has been providing Americans with reliable, affordable energy for more than a century. Yet while engineers have greatly improved hydropower technologies over the years, many U.S. dams and facilities have not been upgraded in decades.
To address this challenge, the Energy Department has invested in projects to upgrade the nation's existing hydropower facilities -- helping to increase our supply of clean, renewable energy and provide more communities with affordable, reliable power.
The hydropower modernization projects in our list below are excellent examples of how upgrading existing hydropower facilities can add decades to their life spans, reduce environmental impacts and generate even more clean energy for their communities. These projects were supported by $24.9 million in Energy Department investments under the Recovery Act.
Dedicated on August 7, Tacoma Power's Cushman Dam No. 2 features an innovative fish passage system that will help reintroduce Washington's endangered steelhead and salmon populations to waters upstream of the two Cushman dams for the first time since the 1920s. The utility has also installed a new powerhouse at the dam that will generate approximately 3.6 megawatts (MW) of additional clean, renewable energy -- an increase of 14 percent -- tapping currently diverted but, until now, unused water flow.
The County of Los Alamos, New Mexico, added a new low-flow turbine and generator powerhouse to the Abiquiu Dam. Completed in April 2011, the new powerhouse increased the dam's capacity by 3 MW, or 22 percent, generating power for an additional 1,100 homes. In addition, the new turbine and generator allows for power generation year-round, including during the winter when the Rio Chama's flow can be too low to run the two older turbines efficiently.
Boulder, Colorado, refurbished the Boulder Canyon Hydroelectric Project, originally built in 1910, by replacing two 10-MW turbines with a single, more efficient 5-MW turbine. Boulder has converted some of the city's water flows to municipal use, reducing flows available for power generation, and the single, smaller turbine runs more consistently and efficiently, generating 30 percent more power from the remaining flow.
Alabama Power Company is refurbishing four units at three hydropower facilities along the Coosa River -- installing redesigned, high-efficiency turbines and replacing or refurbishing other components to increase output and reliability. Planned for completion in 2014, the upgrades are expected to increase annual generation by 7.3 percent, enough to power over 3,000 more homes. In addition, the modern turbine and generators will be more reliable and let fish pass with less chance for injury or damage to the turbine.
Alcoa, Inc. modernized the Cheoah Dam facility in Robbinsville, North Carolina. With equipment averaging 90 years old -- four or five decades beyond the typical unit life – Alcoa and partners are replacing four of the dam's five turbines, generators and transformers, and rehabilitating all remaining equipment. The improvements increase the facility's capacity to an estimated 162 MW -- a 40 percent boost powering about 8,200 additional homes. The upgrades will extend the life of the dam's equipment by at least another half-century.
Minnesota Power Company's Fond du Lac hydroelectric facility, a 12-MW dam built in 1924, has been completely refurbished using a new, state-of-the-art turbine optimized with up-to-date modeling software. The modernized plant will provide an estimated additional 6,000 MWh per year -- a 12 percent increase fueling more than 500 additional homes.
Upgrades to existing hydroelectric facilities like these offer both communities and utilities the opportunity to make hydropower even more cost-effective, productive and environmentally friendly, as these facilities continue into their next century of service.