You are here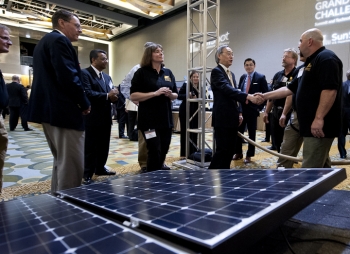 Energy Secretary Steven Chu meets with students from Front Range Community College at the Solar Instructor Training Network exhibit at the SunShot Grand Challenge Summit and Technology Forum in Colorado. | Photo by Dennis Schroeder, NREL.
For the U.S. solar market to continue to expand -- maintaining a skilled workforce remains tremendously important. This is why the Energy Department recently announced its support for the Photovoltaic Online Training (PVOT) program -- a free online training tool specifically designed for code officials who grant permits and perform field inspections for residential solar installations.
Using video and photographs to illustrate the correct techniques -- PVOT teaches participants how to perform safe solar installations. The online course provides in-depth training in a variety of subjects -- including electrical requirements and expedited permitting processes. The end goal is to increase the reach and scale of training available to code officials across the country, while also establishing a consistent and streamlined approach to the residential solar inspection and installation process.
While geared to building and electrical code officials, PVOT is also appropriate for solar installers, architects, students and even consumers who are interested in the solar industry. The curriculum is compliant with current National Electrical Code requirements.
PVOT was developed by the Interstate Renewable Energy Council as part of the SunShot Initiative's Solar Instructor Training Network.  PVOT is hosted on the National Training & Education Resource -- an open-source online learning platform. To learn more, visit the PVOT website.