You are here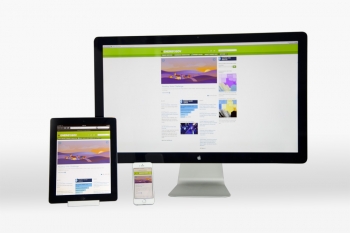 Energy.gov now provides a browsing experience tailored to the device you're using.
You may have noticed some changes to Energy.gov today, especially if you're looking at our site on a smartphone or a tablet. Over the weekend, we launched a major upgrade to Energy.gov, with an expanded focus on consumer-oriented content and -- most importantly -- a responsive design that automatically optimizes the browsing experience for whatever device you're using. 
When we launched the new Energy.gov two years ago, we committed to running a modern, user-friendly website, using open-source technology, adhering to web standards and consolidating dozens of Department websites into a single, one-stop platform.
We also committed to continually grow and develop Energy.gov based on what we've learned about our users from analytics and user testing. Over the last several months, we've seen some major trends develop:
Like most websites, we've seen mobile traffic grow dramatically. Smartphone and tablet devices now account for over 15 percent of our total traffic. While you could navigate Energy.gov on these devices, it took a lot of pinching, zooming and precise finger pointing. We knew we needed to do better as these devices become more ubiquitous.
 
With the migration of content from our Energy Saver site into Energy.gov, we saw a dramatic increase in traffic, particularly from search engines. Users were looking for consumer-oriented information about saving money and energy from a trusted source. We've seen nearly a 30 percent increase in traffic and at least seven of our top 10 pages each week come from Energy Saver, but the content was somewhat buried and difficult to find from our home page.
 
From user testing sessions, we found that most users were interested in the information about available tax credits, rebates and other savings that we pull in from the Database of State Incentives for Renewables and Efficiency (DSIRE). However, the results were displayed in an fairly unfriendly, table-based format. We needed to make these results more visible and user-friendly.
This upgrade to Energy.gov set out to address those challenges and others. Some of the improvements you'll notice today:
The entire Energy.gov site now features a responsive design. Regardless of whether you're accessing us from a desktop, tablet or smartphone, you'll receive an experience optimized for your device. For smartphone and small tablet users, the design maximizes real estate by moving menus under a dropdown at the top of the screen and emphasizes the search function to help get users to the content they're looking for quickly.
 
We've moved Energy Saver to our top-level navigation, making it easy to find and better reflecting its popularity. We'll continue to work in the coming months to better integrate content between Energy Saver and the rest of Energy.gov.
 
We've completely revamped our Tax Credits, Savings and Rebate page to make it easier to find the information that you're looking for. When you select your state, you'll notice that you get a more user-friendly look at the rebates available, as well as selectable filters to search by category and eligibility requirements. 
We've also implemented a number of other cosmetic and usability improvements, including:
At Energy, we're committed to continuing to evolve Energy.gov and deliver a modern, user-friendly experience that serves a wide audience. Feel free to use this form to let us know how we're doing and how we can improve our site.