You are here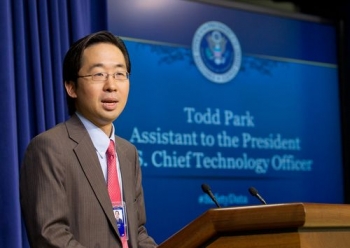 U.S. Chief Technology Officer Todd Park kicks off the Safety Datapalooza on September 19th. | Photo Courtesy U.S. Department of Labor
On Monday, October 1st, more than 150 entrepreneurs, software developers, energy experts and policy makers are coming together for the first annual Energy Datapalooza. We'll be highlighting innovators that are using freely available data from the government and other sources to build products, services and apps that advance a secure and clean energy future.
As a part of the Energy Data Initiative, the Datapalooza will also feature new datasets, application programming interfaces (APIs), and opportunities from the Energy Department, the Environmental Protection Agency and a number of private sector partners.
No matter where you are, you can participate in this exciting event.
Watch Live
The Datapalooza will be livestreamed on WhiteHouse.gov/live beginning at 8:30AM EST. The livestreamed portion of the event should conclude by 12:00PM EST.
Tweet With Us
On Monday, follow @energy on Twitter for the latest updates.