You are here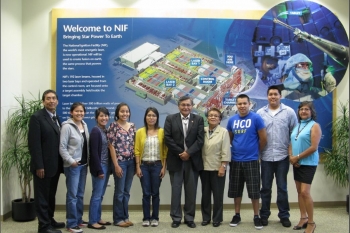 Native American student interns at LLNL meet with Navajo Tribal President Ben Shelly this summer.
When the National Nuclear Security Administration (NNSA) looked for an institution to get a strong engineering base to recruit from, they turned to Northern Arizona University (NAU), the top recruiter of Native American engineering students in their area. Since 2010, NNSA has funded a 12-week summer internship program at Lawrence Livermore National Laboratory (LLNL) in nearby California working with NAU professors to recruit top-notch engineering students to assist with LLNL projects. Once on site after orientation, students work in groups and join in the summer programming – think talks, lectures, social activities, and field trips – alongside LLNL's 400 Summer Scholar students. The NNSA program also includes funding for NAU to put on a "Summer High School Youth Symposium."
This summer, the Native American student researchers had an opportunity to brief Navajo Tribal President Ben Shelly about their summer projects. President Shelly was at LLNL for the Navajo Nation Energy Advisory Committee's meeting on overarching energy policy, discussing issues such as energy and Native American Education. Dustin Saag, a member of the Navajo Nation and an electrical engineering major, presented his work from the internship to create a Universal Content Management System, corralling pictures and media files from the laboratory to upload into a central system.
As with any recruitment tool, Lawrence Livermore National Laboratory hopes that the Native American students who have gotten a taste of a career at their lab will return after they graduate and apply to be a permanent part of the team. The summer of research these students now have under their belts will help them compete for much sought-after positions within the Nation's national security laboratories.
In the meantime, these students are charged with taking their experience and training back to their communities and school. Poster presentations of their research bring the results of their summer projects to their peers, and draw in more applicants to next year's program. While students can re-apply to return after they've finished a summer program, the laboratory is hoping to reach a larger number of students through the program's duration.
To learn more about internship opportunities at LLNL visit: https://internships.llnl.gov/