You are here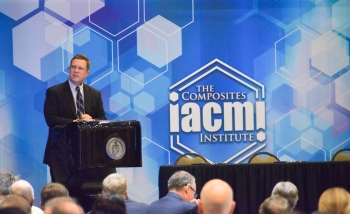 Assistant Secretary for Energy Efficiency and Renewable Energy Dr. David Danielson speaks during the launch of the Institute for Advanced Composites Manufacturing Innovation in Knoxville, Tennessee. | Photo courtesy of Oak Ridge National Laboratory.
Advanced composites -- such as carbon fiber -- are three times as strong and twice as light as the lightest metals. Currently, they're used for expensive applications like satellites and luxury cars. Lowering the cost of these materials would enable their use for a broader range of products essential to America's clean energy economy, including lightweight vehicles with record-breaking fuel economy; lighter and longer wind turbine blades; high pressure tanks for natural gas-fueled cars; and lighter, more efficient industrial equipment.
That's why earlier this year President Obama announced a new advanced manufacturing hub: the Institute for Advanced Composites Manufacturing Innovation (IACMI) in Knoxville, Tennessee. Yesterday I was in Knoxville to help officially kick off the Institute, which will work to develop lower-cost, higher-speed and more efficient manufacturing and recycling processes for advanced composites.
The Institute will focus on lowering the overall manufacturing costs of advanced composites by 50 percent, reducing the energy used to make composites by 75 percent and increasing the recyclability of composites to more than 95 percent within the next decade. This was the first meeting of the Institute's 123 world-class partners -- companies, nonprofits and universities -- led by a new not-for-profit organization established by the University of Tennessee, Knoxville.
Since February 2010, the U.S. has added 800,000 new manufacturing jobs. And yesterday's launch is exactly the kind of investment we need to build on this progress, creating the foundation needed for American manufacturing growth and competitiveness in the years to come. The Institute has assembled a team of organizations from across multiple industries, including leading manufacturers, material suppliers and software developers, government and academia. These partners have broad and deep experience in all aspects of the advanced composite product development process from design and prototyping, to manufacturing at commercial scale.
The new institute pairs leading carbon fiber producers and suppliers -- like Materials Innovation Technologies, Harper International and Strongwell -- with key manufacturers like TPI Composites for wind turbines and Ford for automobiles. The combined resources and expertise of the team will provide a leap forward in composite manufacturing and further enhance U.S. competitiveness in clean energy as new partners are brought on board.
IACMI brings together researchers and provides its members access to existing resources like the Manufacturing Demonstration Facility at Oak Ridge National Laboratory in Tennessee, unique fiber labs in Kentucky, the Composite Vehicle Research Center in Michigan, large-scale wind testing facilities in Colorado, equipment at the National Composite Center in Ohio, and a modeling and simulation platform from Purdue University. The Institute plans to expand these shared-access R&D capabilities at a scale that does not yet exist in the U.S. for composites manufacturing.
The Institute is already producing results  -- with Ford and DowAksa announcing a joint development agreement in April to advance research on cost-effective, high-volume manufacturing of automotive-grade carbon fiber in conjunction with IACMI. IACMI is sparking additional investment in composites research by Purdue University, which recently announced plans for a new building for manufacturing research that will house IACMI resources alongside other research groups.
As President Obama said when he was in Tennessee to announce this hub, "…places like this are who we are. We create. We innovate. We build. We do it together." By taking steps to support advanced manufacturing, the Energy Department continues to build on this momentum and enable the United States to create, innovate and lead the global clean energy manufacturing race.