You are here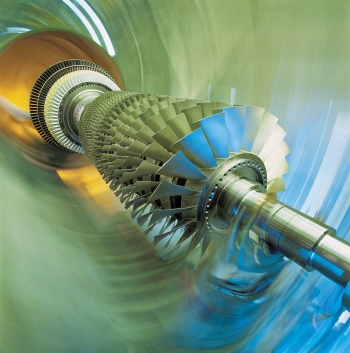 Erosion-resistant nanocoatings are making gas turbine engines more efficient, reducing cost and saving fuel.
Like many people, I travel for work. When I was younger, I sometimes wondered about how something as large as an airplane can stay airborne. I now know that an airplane can fly based upon the principle of lift versus drag: when the force of 'lift' generated by an object as it moves through the air overcomes the 'drag' on that object, things – even big things like airplanes – go up. Now I have discovered something new to marvel at: nanocoatings – an innovation made up of particles so small that they are only one-thousandth the width of a human hair. With support from the Energy Department, MDS Coating Technologies (MCT) Corporation has developed a particular nanocoating that has the potential to improve the energy efficiency of aircrafts and save the airline industry hundreds of millions of dollars in fuel costs annually.
During normal use, the blade-like airfoils of aircraft engines can be eroded by contaminants such as dust and water droplets. This erosion decreases the efficiency of the engine's operations, resulting in increased fuel consumption and decreased engine power. Eventually, the damaged airfoils must be replaced, costing the airline both time and money. 
 
As part of its commitment to helping American businesses cut energy costs and reduce petroleum use, the Department's Advanced Manufacturing Office, in partnership with Delta Air Lines and the National Energy Technology Laboratory, invested over $450,000 to help test the performance of an innovative, erosion resistant nanocoating that provides a strong and lightweight protective barrier for industrial gas turbine engines. Extensive testing has demonstrated that this nanocoating significantly reduces erosion and corrosion, leading to sustained aircraft engine performance and significant reductions in both fuel use and costs for airlines. The nanocoating also extends the life cycle of the airfoils; thereby reducing the need for costly replacements or repair.
"Competitive pressures and the impact of escalating fuel cost constantly force us to innovate and find new ways to reduce maintenance and operating costs," said David Garrison, Managing Director, Engine and Component Maintenance at Delta. "This will allow Delta to benefit from this truly impressive technology."
 
The fuel cost savings from this innovation could be dramatic. U.S. airlines operate over 25,000 flights daily and according to the U.S. Energy Information Administration, commercial aviation fuel consumption over the next 10 years could average approximately 18 billion gallons per year.[1]  Delta estimates potential fuel savings for U.S. carriers to be 0.5 percent for normal operations, or 90 million gallons, annually due to the performance retention made possible by MCT's nanocoating. At an assumed approximate cost of $3.50 per gallon, that benefit that could translate to approximately $315 million in cost savings per year. Additional potential markets for this innovation include U.S. commercial freight carriers and the U.S. Department of Defense's aviation fleet. Delta is planning to apply the nanocoating to its fleet of Boeing 737 aircraft upon final certification by the FAA, expected this month.
 
By unlocking the potential to save energy and enhance performance in gas turbine engines, advances like this erosion-resistant nanocoating can help boost the competitiveness of U.S. companies to win the global race for clean energy. And in doing so they're contributing to President Obama's all-of-the-above energy strategy to cut America's dependence on foreign oil, reduce carbon emissions, and drive down transportation costs.
 
Now when I travel, instead of wondering how planes can fly, I ask myself, 'how can we make them fly better?'
 
[1] U.S. Energy Information Administration, "Annual Energy Outlook 2012" report.