You are here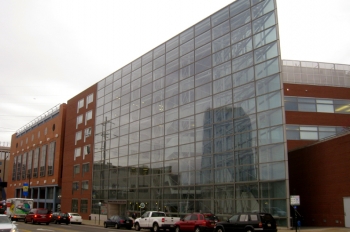 The Bossone Research Enterprise Center is one of six buildings on Drexel University's Philadelphia campus to undergo energy efficiency upgrades to its heating and cooling systems that will reduce energy consumption and save the university up to $600,000. | Photo courtesy of Daderot.
Drexel University's Philadelphia campus will undergo energy upgrades that are expected to reduce energy consumption by seven percent and save the university up to $600,000 in annual energy costs.  Partnering with a project engineering team from Transcend Equity Development Corporation, the university will install new building controls and advanced heating and cooling systems expected to significantly reduce energy consumption in six campus buildings.
The upgrades were made possible by a financing vehicle called the Campus Energy Efficiency Fund (CEEF) created by the Pennsylvania State Treasury, the Philadelphia-based green investment firm Blue Hill Partners and the Pennsylvania State Energy Program. The CEEF provides developers with capital for installing and operating energy efficiency projects at the state's private colleges and universities. The colleges then pay back the State Treasury and investors the cost savings associated with lower energy consumption over a period of time at market-based interest.
Drexel University became the first university to utilize this financing model when Drexel's President John Fry signed an agreement to proceed with the CEEF project in June 2011.
Drexel has been a longtime supporter of green practices and is listed on the U.S. Environmental Protection Agency's national list of top 50 green power purchasers. Having recently signed the American College & University Presidents' Climate Commitment, the university committed to developing an institutional action plan within two years to eliminate its carbon footprint as soon as possible and promote sustainability research and educational practices.
The Campus Energy Efficiency Fund is just one example of how public and private institutions can partner through energy efficiency financing to help boost a state's economy and provide financial returns to investors, aide in job creation, and reduce energy expenses. The Pennsylvania State Treasury will use this financing vehicle to invest as much as $10 million in capital in 10 to 12 of the state's private colleges and universities, which is expected to leverage funding to $45 million over the next two years.  
The investments are expected to create 700 new jobs in the state of Pennsylvania and the state's private colleges and universities are anticipated to save $150 million in their overall utility costs. At full scope, it's estimated the fund will save colleges and universities 2 billion kWh over 20 years, the equivalent of taking 250,000 cars off the road for one year.
Funding from the Energy Department's State Energy Program, administered through the Pennsylvania State Energy Office in Pennsylvania's Department of Environmental Protection, assisted in launching the first stage of the model for this energy efficiency transformation project.