You are here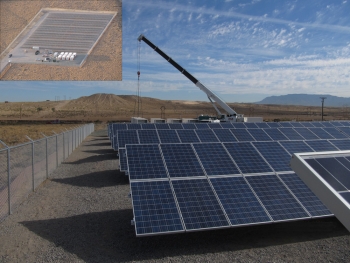 The PNM Prosperity Energy Storage Project is the nation's first combined solar generation and storage facility to be fully integrated into a utility's power grid. Pictured above are the facility's solar panels, including an aerial view in the upper left. | Image courtesy of PNM
Solar and wind power provide the means for America to strengthen its energy security, create jobs in growing markets, and improve the environment. Thanks to breakthroughs in energy storage systems, including the first grid-tied solar and storage facility, that potential is getting closer to reality. By combining energy storage systems with smart grid technology, utilities are able to automatically "smooth" the output of energy. This allows intermittent energy sources to be available even when the sun isn't shining or the wind isn't blowing. 
Across the U.S., Recovery Act funding is allowing 32 demonstration projects, including large-scale energy storage, smart meters, distribution and transmission system monitoring devices, and a range of other smart technologies, to explore the deployment of integrated smart grid systems on a broader scale. 
Recently, three of these projects have been recognized for their progress in the development and implementation of energy storage systems.  As the worldwide market for clean energy expands, projects like these are continuing the tradition of American leadership in developing next-generation technologies. 
Public Service Company of New Mexico – The PNM Prosperity Energy Storage Project is the nation's first combined solar generation and storage facility to be fully integrated into a utility's power grid.  Able to produce and store 500 kilowatts of power, the facility is now helping to meet the electricity needs of customers in New Mexico.  PNM brought the project online in September at a ceremony that featured remarks by U.S Senator Jeff Bingaman and Representative Ben Ray Lujan.  The project received $2.3 million from the Energy Department, which was matched by $3.8 million from PNM, for a total of $6.1 million.
Aquion Energy – In October, Aquion won the 2011 World Technology Award in Energy for its potentially game-changing energy storage system.  By using readily available materials – sodium and water – as the base of its batteries, the company has developed practical energy storage systems that are both inexpensive and low-maintenance.  The $10.4 million project, which includes $5.2 million in Energy Department funding, will advance the technology from bench-scale to a pilot.  The success demonstrated thus far by the technology has spurred additional private investments of over $30 million.
SustainX – A finalist for a 2011 World Technology Award, SustainX has developed a system to store and release energy as compressed air without losing heat.  The technology significantly improves the efficiency and reduces the cost of compressed air energy storage.  SustainX's $10.8 million Recovery Act project ($5.4 million from the Energy Department) is developing a one megawatt system, and will demonstrate the system through its utility partners.  Since the award was announced in 2010, the company has received 8 patents for its technology, been named to the 2010 Global Cleantech 100 list (out of over 3,000 nominees worldwide), and was selected as a GE Ecomagination Challenge winner.
To learn more about the Energy Department's other national efforts to modernize the electric grid, visit the Office of Electricity Delivery and Energy Reliability.