You are here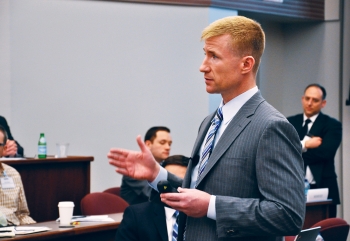 Rich Earley, CEO of Clean Urban Energy presents at Clean Energy Trust's Clean Energy Challenge in March 2011 | Courtesy of Clean Energy Trust
Startups are engines of job creation.  It is entrepreneurs in innovative fields like clean energy who will build the new industries of the 21st century.


To accelerate high-growth entrepreneurship across the nation and move cutting-edge clean energy technologies from the lab to the marketplace, a year ago the Energy Department launched the Innovation Ecosystem Initiative. 


As part of this initiative, five projects, led by universities and nonprofits in five distinct geographic regions across the United States, were awarded a total of $5.3 million over three years to encourage rapid market penetration of innovative clean energy research and development activities.  


One of the selected projects leading the way is Clean Energy Trust. The Chicago-based non-profit connects entrepreneurs, researchers and early stage clean energy businesses across the Midwest with expertise and capital.


As an Innovation Ecosystem, Clean Energy Trust has launched the Clean Energy Challenge — an annual business plan competition in which competitors submit their respective plans. The winning team develops the most efficient and effective way to get different technologies to market. Clean Energy Trust collaborates with the Illinois Institute of Technology, Northwestern University, University of Chicago, and the University of Illinois to challenge Illinois scientists and entrepreneurs to compete for $100,000 in seed funds and business support services. 


Smart-grid startup Clean Urban Energy won the inaugural competition — securing $75,000 for its energy storage and smart grid performance optimization technology. Through its software platform and service, Clean Urban Energy harnesses a building's inherent thermal mass to drive 15-30% electricity savings and deliver significant megawatt storage capacity to grid operators.


This award not only means critical guidance and support from the Clean Energy Trust network, it also helped Clean Urban Energy attract the attention of the venture capital industry — leading them to secure an impressive $7 million in funding from Battery Ventures and Rho Ventures, as well as other key investors. The boost in funding has meant significant growth for the company — enabling them to hire several new employees. In addition, Clean Urban Energy will use the new capital to fuel strategic development in four new major U.S. cities: New York, Los Angeles, San Francisco, and Houston. 
One of the ideas behind the Innovation Ecosystem is to create a new pathway to accelerate innovation, and this is exactly what happened with Clean Urban Energy and the Clean Energy Trust. Through the Clean Energy Trust competition, a team of deserving American innovators was able to get the funding, attention, and validation it needed to push its idea forward.