You are here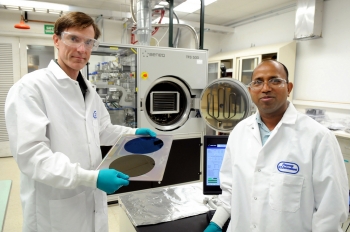 Argonne National Lab scientists Jeff Elam (left) and Anil Mane's work in nanocomposite charge drain coatings represents a significant breakthrough in the efforts to develop microelectromechanical systems, or MEMS. This new technology earned one of the 36 R&D 100 awards from R&D Magazine that the National Labs took home in 2013. | Image courtesy of Argonne National Laboratory.
Every day, our National Laboratories lead the charge in fulfilling the Energy Department's mission to use science and research to tackle our nation's energy and security challenges. The development of these transformative solutions has great potential for direct application across the energy industry. For this reason, the process of transforming innovation into commercialization -- technology transfer -- is critical to the work at the Energy Department.  
There are many ways in which the National Laboratories engage in technology transfer. CRADAs (Cooperative Research and Development Agreements) allow industry partners to share technical expertise and resources in a protected environment, access intellectual property and data emerging from the effort, and advance the commercialization of federally developed technologies.
In the Work for Others agreement, industry partners pay the National Laboratories to perform a defined scope of work that draws upon the unique facilities, equipment, and personnel of the Laboratory. Work for Others agreements typically allow these partners to retain certain intellectual property and data rights arising from their sponsored work at the Laboratory.
In other instances, some industry partners are developing unique research ideas that require facilities or instruments that only Energy Department laboratories can provide.Through User Agreements for Designated User Facilities, industry partners receive access to specific facilities and equipment available at the laboratories to conduct research and development. User facilities may be available for proprietary or non-proprietary research. Proprietary users pay the full cost of conducting the research at the lab and retain certain rights to the intellectual property and data. Non-proprietary users agree to publish the research results and are not required to cover the cost of the use of the facility.
The ways in which technology transfers occur are critical in helping to push innovation forward. The Department works to make patents easily accessible for startup companies, entrepreneurs and small businesses through initiatives like "America's Next Top Energy Innovator Challenge," the Energy Innovation Portal and tech transfer programs at the individual labs. To learn more, visit energy.gov/labs.