You are here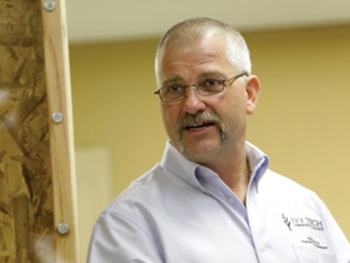 Ray Bonebrake teaches at Ivy Tech. | Photo courtesy Ivy Tech
At a community college with locations across Indiana, a free weatherization training course gives students of diverse backgrounds a chance to hone their skills and jump into careers in the clean-energy economy. With the help of mentors and hands-on learning activities, students leave the course ready to compete for green jobs.
"I think when you introduce them to some of the theories and practices that we're promoting, it's an awakening," instructor David Blais says.
While the overarching goal of the program is to prepare contractors to be able to work on Recovery Act-funded homes and teach them the expectations of the weatherization program, students also learn to understand how to interact and cooperate with people in different roles from their own.
This multidisciplinary approach helps workers who just work in insulation, for example, understand what other weatherization installers that put in windows or heating and air conditioning systems are doing in homes.
"As they begin to break things down, they are surprised because I introduce them to more than just their small piece of the pie, showing them that what they do affects other parts of the equation," David says.
Ivy Tech Community College trained about 1,557 students in their weatherization courses across the state this summer using Recovery Act funds allotted to training. Roughly $1.5 million will go through the Indiana Housing and Community Development Authority (IHCDA) to train citizens for the weatherization work being done by community action agencies around the state.
David says that the country's renewed focus on weatherization and green-jobs training brought on by the stimulus puts a spotlight on energy awareness in the eyes of the American people.
"It brings to light that energy is limited, and we have to be mindful of how we spend and conserve it," he says. "I think our program and others like it are good because it raises that awareness and shows people how their actions and choices affect the entire economy."
Even experienced workers such as Dennis Wilson, a lead weatherization installer for a contractor in Indiana, can gain something from the state-of-the-art program.
"Sure, a portion of it was a review, but I did pick up a couple things from them, like new ways they stop air infiltration," the 18-year insulation veteran says.
Wilson says hearing about the new ideas in the industry keeps him up-to-speed on what new equipment is available for energy-efficiency testing purposes, among other things.
"It's all much more updated now than when I started, and it's good to keep in sync with that," he says. "It's a coordinated effort to make sure things are getting done as needed, and it helps energy auditors and installers get a better overall focus on what we're all trying to accomplish."
Editor's note: This story was modified on July 12, 2010 to update the number of students who have received weatherization training. Also, Ivy Tech's original contract with IHCDA called for 100 classes to be offered at 10 locations. The college now offers training at limited locations throughout Indiana. The new contract with IHCDA runs through April 30, 2011.