How do you help ensure that American companies and entrepreneurs can access the materials they need to build and develop clean energy technologies? One step is today's announcement of a new Critical Materials Hub led by the Ames Laboratory, located in Ames, Iowa. The Critical Materials Hub is the latest of the Energy Department's Energy Innovation Hubs -- which combine basic and applied research with engineering to accelerate scientific discovery in critical energy areas.
Many of the fastest growing clean energy technologies, from batteries to solar panels, are made with materials that have unique chemical and physical characteristics, including magnetic, catalytic and luminescent properties. These materials -- which include some rare earth elements and are often called critical materials -- are essential to the clean energy economy and are at risk for supply disruptions.
The new Hub, officially known as the Critical Materials Institute (CMI), will play a pivotal role in accelerating U.S. leadership and spurring investments in energy innovations by eliminating supply uncertainties for modern and emerging clean energy technologies.
Awarded up to $120 million over the next five years and led by Ames' Dr. Alexander King, the Hub will initially focus on developing solutions to shortages for five rare earth elements as well as lithium and tellurium, and the technologies -- including electric vehicle motors and batteries, wind turbines, energy-efficient lighting and thin-film solar cells -- that use these critical materials.
CMI's world-class team -- which includes researchers from national laboratories, universities and industry -- will build on the Energy Department's previous critical materials work by addressing challenges across the entire lifecycle of materials essential to clean energy technologies. This includes determining what materials will be important to the clean energy economy in the future, creating new economically viable processing technology to extract rare earths from ores, developing material substitutes that are readily available for American manufacturers, and improving the efficiency of materials processing and manufacturing. The Hub will also explore ways to reduce the amount of critical materials currently needed in clean energy technologies, and increase recycling and reuse. 
The Critical Materials Hub is one of the Energy Department's five Energy Innovation Hubs. All of the Hubs are modeled after the strong scientific management characteristics of the Manhattan Project, Lincoln Lab at MIT that developed radar, AT&T Bell Laboratories that developed the transistor and, more recently, the highly successful Bioenergy Research Centers established during the Bush Administration to pioneer advanced techniques in biotechnology, including biofuels.  
On Tuesday, Jan. 15 at 3 pm ET, the Department will hold a Google+ Hangout with leaders of the Critical Materials Institute to discuss this important research effort, which can be viewed at energy.gov/live.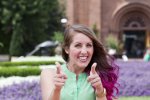 Rebecca Matulka
Served as a digital communications specialist for the Energy Department.Served as a digital communications specialist for the Energy Department.
more by this author