You are here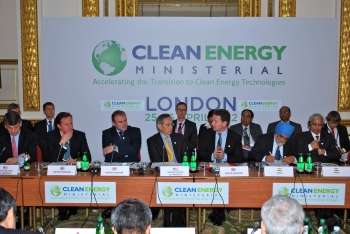 Prime Minister David Cameron, Secretary of State Edward Davey, Energy Department Secretary Steven Chu and Minister of State Greg Barker at the third Clean Energy Ministerial event in London on 26 April 2012. | Photo courtesy of the Department of Energy and Climate Change.
The International Energy Agency released its 2012 Tracking Clean Energy Progress report  at the third Clean Energy Ministerial in London.
The report tracks progress in advancing energy-efficient and clean energy technologies at a global scale. In addition, the report pays special focus to how clean energy technologies -- from electric vehicles to smart grid -- can help limit the global temperature rise.
Key findings from the report include significant cost reductions and annual growth rates for wind (27%) and solar technologies (42%). Also in the report, IEA outlines potential areas for improvement -- including increased public-private sector investments in full-scale carbon capture and storage, vehicle fuel efficiency, and building and industrial efficiency projects.
The report encourages energy ministers to increase international collaboration and support national clean energy technology goals. Critical recommendations and action to help clean energy technologies gain a stronger foothold in the mainstream market include:
Level the playing field for clean energy technologies
Encourage investment in clean energy technology.
Develop policies to address energy systems as a whole.
Step up to the Carbon Capture Storage challenge.
Unlock the potential of energy efficiency
Implement energy efficiency policies and enhance energy efficiency standards.
Leverage the role of energy providers in delivering energy efficiency.
Accelerate energy innovation and public research, development, and demonstration
For additional details, read the full report: Tracking Clean Energy Progress: Energy Technology Perspectives 2012.
And, remember to check in with us on Twitter (#CEM3) and Facebook where we'll be providing you with updates on the third Clean Energy Ministerial.