You are here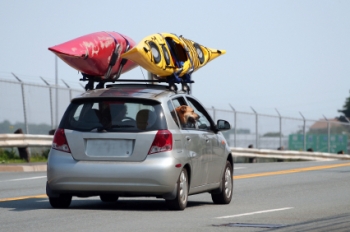 Simple tips like removing extra cargo when not needed can help you save big on your summer travel plans.| Photo Courtesy of Fueleconomy.gov
Even as your odometer rises this summer, there are still ways to save at the pump. Particularly during these summer months, there are ways you can save over 30% on gas. Fueleconomy.gov offers a slew of tips and ways to save -- and now they're available on the go on the mobile site. It tells you how much money you'll actually save, based on current gas prices.

We checked in with fuel economy expert Dr. David Greene at the Energy Department's Oak Ridge National Laboratory, who offered some fuel-saving tips for this summer and how you can use Fueleconomy.gov to help cut your travel costs.

Our fuel economy expert just answered your questions during a live Twitter Q&A. Check out @energy for the conversation.
Plan your pit stops
No matter the relative price of oil, Dr. Greene says we normally see gas prices rise during the summertime due to demand. Drivers are taking longer drives and using their air conditioners more. Additionally, summer drivers are more likely to tow trailers or use car-top carriers, which increase fuel usage. As the demand increases, so do the oil prices. On Fueleconomy.gov, you can find the cheapest price at the pump near you, which is particularly helpful during a road trip when you have more flexibility on where to stop.
Take advantage of options
If you are hitting the road with family or friends and have a few driving options, make sure you're making the most efficient choice based on the driving you will be doing, says Dr. Greene. Compare the cars at Fueleconomy.gov and pick the one that will save you the most on gas.
Don't B-E aggressive
It may not be a seasonal tip, but Dr. Greene says the No. 1 way to lower your gas prices this summer is paying attention to your driving style. Fueleconomy.gov offers tips on things you can do, such as anticipating that stoplight or avoiding tailgating, to save up to 33% at highway speeds and 5% around town. How much money does this save you? It saves up to $1.25/gallon at the pump.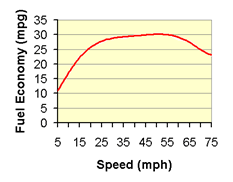 At left, fuel economy chart comparing speed to MPG. | Courtesy of Fueleconomy.gov
Don't rush that road trip
"If you can slow down a little bit, you can save a considerable amount of fuel," says Dr. Greene, remarking that even just 5 miles faster than the speed limit easily wastes 5-10% of fuel. Driving 60mph instead of 65mph can save you $0.64 per gallon, which adds up on those long stretches.
Make sure you inflate your tires before taking off
While it seems like common sense, sometimes you need a little reminder to check that your tires are properly inflated. The proper tire pressure for your vehicle is usually found on a sticker in the driver's side door jamb or the glove box, as well as in your owner's manual. You can save up to $0.11/gallon on gas by making sure your tires are at the right tire pressure.
Don't carry extra junk in your trunk
While Dr. Greene says you're not likely to drive around with extra weight, do keep in mind that it does impact what you're spending at the pump. So if you're carrying heavy loads, remember to offload when you can rather than lugging around top loads or trailers unnecessarily. An extra 100 lbs. means you're spending $0.08/gallon more on gas.
Track your mileage on your mobile
How do you know these tips are helping? Dr. Greene recommends that you monitor how much money you're saving by following these tips to see directly how a change in the way you drive or car maintenance impacts how much you spend on gas. You can get started at Your MPG at Fueleconomy.gov and then access it on the mobile site at the pump. A drop in your fuel economy may indicate a mechanical problem, like an underinflated tire, and seeing that drop can help you correct it. While some people like to monitor just to know how much they're spending, says Dr. Greene, you also can monitor to see if your car is running properly or monitor driver behavior.
Personalize Your MPG
Your MPG can also be higher than average based on the kind of driving you do. On Fueleconomy.gov, you can personalize Your MPG by inputting how much city and highway driving you do. By personalizing Your MPG, you get a more accurate view of what your mpg could be and the impact of your behavior.
The most important decision you will make…
…is which car to buy. If you're in the market for a new car -- whether it's a new or used car (going back to 1984) -- you can enter the model, year and transmission type while at the dealership on the Fueleconomy.gov mobile site. You can compare annual fuel costs and know how much you will save, or spend, on fuel, based on which car you choose.