You are here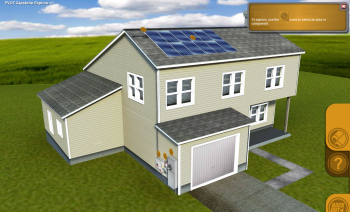 Screen shot of the solar training in the NTER interactive lessons. | Photo courtesy of the Energy Department.
Public-private partnerships have a long history of helping to drive innovative products and services. 
In the 1920s, the Kelly Airmail Act helped to spur demand for the emerging American aviation industry. Today, companies like Boeing do business in a multi-billion dollar industry, but it is worth remembering that it was the U.S. Postal Service that helped get them off the ground. Even the Global Positioning System, or GPS, that we use every day on our smart phones and navigation systems, was originally developed for the U.S. Military.
Today, the Energy Department is looking to continue this proud history of public-private partnerships through our National Training & Education Resource (NTER). At its inception, NTER provided training and workforce development support around energy efficiency training, offering a host of interactive lessons for weatherization experts. Since 2009, these efforts have helped the Administration complete energy efficiency upgrades in more than one million homes nationwide.  
Using our Open Source Software, anyone can build education and training programs using the extensive resources NTER has available. And we need your help to identify appropriate individuals and organizations to partner with.
NTER provides hundreds of public and private organizations free access to the federal resources available at www.nterlearning.org, offering an open-source, web-based interactive learning environment for developing customizable training programs and materials. Over the past year, the Energy Department has worked with private software developers to enhance the platform's 3D capabilities, providing highly interactive content such as virtual walkthroughs or performance-based assessments. The multi-media, interactive, self-paced training modules can help meet the needs of the diverse 21st-century workforce.
NTER makes it easy, and inexpensive for organizations to build, and deliver state-of-the-art learning experiences. It offers a networked experience and specialized search engine just for education and training. As a course authoring tool, delivery platform and learning management system NTER provides a full suite of tools to start offering education and training quickly and cheaply.
Already, a wide range of organizations are now leveraging the benefits of NTER, from the National Association of Manufacturers, to the Departments of Defense, Labor and Education, to community colleges across the country. All told, the platform hosts nearly 450 contributors with more than 125 learning modules.
But this is only the beginning, NTER's open source tool makes it easier to build partnerships with the private sector, non-profit organizations, and schools and colleges. And we want to hear from you about how we can continue to make this system innovative, flexible and agile.
The next owner of NTER will need expertise in open source domain management and customer service as well as in creating and deploying new technologies and functionalities within a sustainable and stable environment. They will also have an immense platform to engage new learners, new industries and better infrastructure through unexplored business models and outreach.
Interested? Given the opportunity, how would you expand and strengthen NTER and its unique capabilities? Find more information at www.nterlearning.org and email michelle.fox@hq.doe.gov with your ideas.