You are here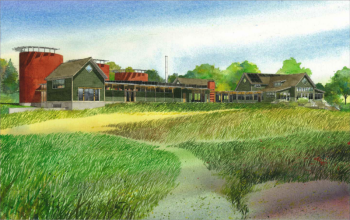 Watercolor print of the Aldo Leopold Nature Center (ALNC) with new facilities.
Aldo Leopold is considered by many to be the father of wildlife ecology. Now, thanks to funding from the U.S. Department of Energy, the Wisconsin nature center that bears his name will be at the forefront in demonstrating the latest energy efficiency and renewable energy technologies to thousands of visitors every year.
The Aldo Leopold Nature Center (ALNC), located near Madison, Wisconsin is using a $500,000 sub-grant from the State of Wisconsin's Energy Efficiency and Conservation Block Grant to support the building, equipping and staffing of a LEED-certified, energy self sufficient educational facility. This new facility will double environmental teaching capacity to 60,000 students per year and increase usable space by 11,161 square feet.
The center's goal is to help Wisconsin children and families understand both the challenges of climate change and the growing opportunities to promote economic growth and cut carbon pollution by adopting renewable energy resources and implementing sustainable "green building" practices.
"The facility's expanded focus will be on how we can, all together, take meaningful, sustainable, and effective, and positive action for the benefit of all future generations," said President and Executive Director Kathe Crowley Conn. "We intend a positive, proactive, and inclusive 'teaching and learning' collaboration with dozens of key partners and are very proud to have the support of the U.S. Department of Energy."
Luke Gomes is a Project Officer at the Golden Field Office.