World leaders are gathering in Paris this week for the 21st United Nations climate conference, known as COP21. Our mission: Secure an ambitious global agreement to reduce carbon dioxide emissions and minimize climate change.
As negotiators hammer out the details of an agreement, I will be meeting with energy ministers, mayors, executives and other leaders to champion the clean energy solutions that are vital to reducing carbon emissions worldwide. Read on to learn more about how we can beat climate change.
It starts with innovation.
The global momentum to tackle climate change has never been stronger. At the same time, the costs of today's clean energy technologies have never been lower. That is no coincidence.
The dramatic cost reduction shown in this graph is a direct result of technological innovations made possible by investments in research and development (R&D) 10, 20, even 30 years ago. This is significant progress, but it is not enough to meet our long-term climate goals. Put simply, we can't beat climate change with only the technology we have today.
I believe that clean energy innovation is the solution to climate change. It is the key to unlocking new technologies and low-cost clean energy breakthroughs we need to rapidly bend the trajectory of greenhouse gas emissions. As we have seen, innovation also drives the cost reduction necessary to transform global energy markets.
But we don't have the luxury of waiting for new technologies to emerge. We need to rapidly accelerate the pace of innovation to meet the challenge of limiting global temperature rise to two degrees Celsius.
Investment is critical.
That is why President Obama announced last week that the U.S. and 19 other nations are seeking to double our investment in clean energy R&D by 2020. This initiative, called Mission Innovation, seeks to ensure continued improvements in energy technology decades down the road. And it's not just governments. Bill Gates and dozens of the world's most prominent investors committed to do the same through a parallel initiative called the Breakthrough Energy Coalition. These commitments -- in the billions of dollars -- are a major step to ensure we have continued breakthroughs and cost reduction in the future.
Together, these two initiatives establish clean energy innovation as a foundation for environmental stewardship, prosperity, security and social responsibility. They also recognize the tremendous economic benefits that await investors in the transformative energy technologies of tomorrow. But even this unprecedented international effort by the public and private sectors is just one step on the long road ahead.
What comes next?
What comes after a deal in Paris is just as important as the deal itself. Not only will we need to make good on our commitments in Paris, we must work with international partners to accelerate the global transition to clean energy.
To that end, next year, the United States will host the Clean Energy Ministerial (CEM) in June. This group is dedicated to advancing clean energy around the world. This important meeting will serve as a key milestone in our work after Paris to help countries reach their climate goals. I will announce the host city and state on Tuesday, December 8.
Additionally, we will be making announcements around several CEM initiatives including the Global Lighting Challenge. This high-impact effort will launch a race to reach cumulative global sales of 10 billion high-efficiency, high-quality and affordable lighting products (such as LEDs) as quickly as possible. Light bulbs may sound small, but they have a big impact; an overnight global transition to highly efficient LED lamps could avoid carbon dioxide emissions equivalent to displacing nearly 250 coal-fired power plants.
Solving climate change is about more than physics and chemistry.
Solving climate change is about the human spirit and our ability to tackle shared challenges together. It's about ensuring energy security, expanding access to reliable and affordable energy, and spurring economic growth that creates jobs and protects the planet.
For all of that, we need innovation. We need more of it, and we need it faster. The climate challenge is more than any one government can solve alone. It's clear the world is ready to act on climate in Paris. Let's make sure we're committed to what lies beyond Paris. 
Let's get to work.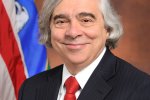 Dr. Ernest Moniz
As United States Secretary of Energy, Dr. Ernest Moniz is tasked with implementing critical Department of Energy missions in support of President Obama's goals of growing the economy, enhancing security and protecting the environment.As United States Secretary of Energy, Dr. Ernest Moniz is tasked with implementing critical Department of Energy missions in support of President Obama's goals of growing the economy, enhancing security and protecting the environment.
more by this author