You are here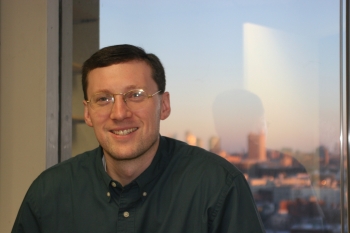 Agrivida's President and co-founder Mike Raab. His company is using ARPA-E funding to develop a new method for converting plant biomass into useful feedstock for the production of biofuels. | Photo courtesy of ARPA-E.
Every day at the Energy Department, researchers are working to help reduce America's dependence on foreign oil and produce energy in safer, more efficient ways. Our scientists are some of the best out there -- and we have exciting projects in the works at our facilities across the United States. But we can't do it alone: In order to effectively transition to cleaner, safer forms of fuel, we need help from the private sector -- which is where the Department's Advanced Research Projects Agency - Energy (or ARPA-E, for short) comes into the picture.
What ARPA-E does that's different from the rest of the Department is take an entrepreneurial approach to the way we spur innovation. By supporting "transformational" energy research projects -- or out-of-the-box ventures that tend to lack private capital due to their high-risk nature -- these investments have the potential to change the way we create and consume energy.
As an important part of our energy portfolio, biofuels are no exception. ARPA-E has sponsored several innovative biomass projects, including Agrivida, a Massachusetts-based company that's prepared to take biofuels production to the next level.
We spoke with Dr. Michael Raab, the president of the clean energy startup who founded the company out of MIT in 2003. He told us about the company's novel take on biofuels, and what he told us sounds like something from the future: Agrivida scientists have engineered plants that produce enzymes that accumulate to high levels during growth, which then degrade by themselves during the processing of biomass into biofuels and chemicals. Basically, Agrivida scientists have identified plant enzymes that rapidly break down cellulose, which is the component that gives plants structure. Those enzymes are then inserted inside of crops (such as sorghum and switchgrass) to be harvested for biofuel. Following harvest, the enzymes inside the crops internally digest their own cellulose on cue, which then leaves behind a liquid blend of sugars that can be converted into fuel.
Dr. Raab says that Agrivida is in a unique position within the biofuels space. "Unlike other companies that have focused downstream on converting biomass derived sugars into fuels and chemicals, we are focused on the conversion of biomass into sugars as a feedstock for those companies. It's a little analogous to the oil industry where you have oil companies that provide a raw material (oil) to refiners that convert the oil into other products."
According to Secretary Chu, by developing cheaper biofuels, companies like Agrivida are helping lower fuel costs while providing economic development in rural areas of the United States. In 2009, Agrivida received about $4.6 million in funding from the Department's ARPA-E program and nearly $2 million from the USDA.
As Dr. Raab points out, the company sees a strong future in the biofuels industry because of the innate difference in production from traditional biofuels. "Because we're making a cellulosic feedstock, which is not part of the food chain, Agrivida's solution addresses a number of competitive, sustainability and energy balance issues that are often criticized when using grain or sucrose."
To learn more about Agrivida and other innovative companies that are changing the way we produce and use energy, join us at the 2012 ARPA-E Energy Innovation Summit February 27-29 at Washington DC's National Harbor.