You are here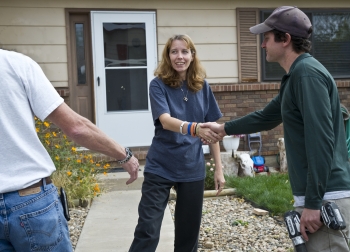 Tammara Thayer thanks Steve Lemaire (left) and Zump Urycki for conducting an energy audit of her home in Loveland, Colorado. Energy audits can help residents identify ways to improve the energy efficiency of their homes. | Photo by Dennis Schroeder, National Renewable Energy Laboratory
All week long, we've taken you inside the world of weatherization to show you how the Energy Department's Weatherization Assistance Program (WAP) is impacting the lives of millions of American families and helping to build the clean energy economy. As our own Weatherization Week draws to a close, we want to make sure you have everything you need to help your family and friends become more energy efficient.
Since its inception in 1976, WAP has been focused on providing home energy upgrades to  help decrease heating and energy costs for low-income families. To find out if you qualify for weatherization assistance, contact the grantee in your state. The state agency will help you to identify the appropriate weatherization service provider to work with in your local area. In addition, you can always review the Database of State Incentives for Renewable Energy to learn about potential cost-saving opportunities in your area.
If you don't qualify for weatherization assistance, there are still a number of things that you can do today to reap the benefits of increased energy efficiency in your home. It's best to start with an idea of how your home uses energy and a home energy audit is the best way to find out. Home Performance with ENERGY STAR helps homeowners take their improvements to the next level by connecting them to specially trained contractors who work with homeowners to understand their energy or comfort goals. Applying building science techniques, contractors use diagnostic equipment to identify the cause of issues related to energy performance.  Rather than focusing on a single problem (like leaky windows), the Home Performance with ENERGY STAR approach teaches you how the systems in your home work together so you can prioritize your home-improvement investments.
Improving your home's energy efficiency does not end with energy upgrades—after your contractor packs up the blower door and infrared camera, the power to use your home efficiently is in your hands. Thanks to smart consumer products on the market, it is now easier than ever to save energy at home. Look for the ENERGY STAR label when you shop for appliances or household devices. Products that earn the ENERGY STAR label meet rigorous standards specified by the Energy Department and the Environmental Protection Agency. Homeowners can expect their ENERGY STAR qualified products to use less energy resulting in fewer greenhouse gas emissions, which means more money in your pocket and less pollution in the air.
Wondering if improving your home's energy efficiency is worth the investment? Consider the benefits. For starters, you'll be saving money – most home energy upgrades pay for themselves in energy savings over their lifetime. Weatherization Assistance Program clients experience home energy savings of $250-$480 in the first year alone when cost-effective measures are implemented based on a home energy audit. Energy upgrades will also help improve the comfort of your home.
Check out Energy Saver to learn more about weatherization, how to conduct an energy audit, and get tips on how to increase your home's energy efficiency.