You are here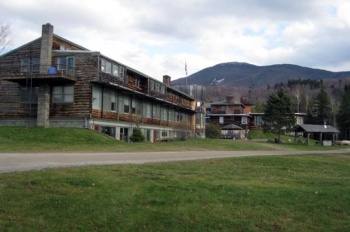 This is the North Country School's 32,000-square-foot main building. Aligning with the school's commitment to a simple, sustainable lifestyle, the school is heated with a wood chip boiler that uses wood sourced from their sustainably managed woodlot and local forests. | Courtesy of North Country School
Located in the heart of the six-million-acre Adirondack Park in Lake Placid, NY, the North Country School cultivates environmental leadership in its pupils from a location of extraordinary natural beauty. The core values of the boarding school -- and corresponding Camp Treetops summer camp --highlight a commitment to simple, sustainable living and to responsible decision making regarding natural resources.
It's fitting that the school has dedicated itself to finding renewable sources of fuel to heat the approximately 85,000 square feet of classroom and office space on campus. After investigating many options, installing a wood chip boiler emerged as the most environmental and economical choice, due in large part to the availability of wood chips that are a by-product of the campus' forest woodlot.
"The nearly 28,000 gallons of fuel oil consumed each year to heat roughly half of our space created a huge carbon footprint. Being able to mitigate this environmental impact was an easy decision to make," said John Culpepper, Facilities Manager. 
Though the school is committed to continually reducing its environmental footprint, the large upfront costs of a centralized wood chip boiler and associated piping network presented a significant barrier to installation. That's where the New York State Energy Research and Development Authority (NYSERDA) and a nearly $250,000 American Recovery and Reinvestment Act grant enter in.
"For a small, not-for-profit institution like ours, it would have been nearly impossible to come up with the upfront cost without NYSERDA funding," Mr. Culpepper says.
Let There Be Heat
The new 1.4MMBtuh wood chip boiler system will be located in a utility building at the core of the campus. Piping will lead to the 32,000-square-foot main school building, currently heated with oil and propane. The wood chip boiler will heat the main school building, and is expected to be expanded in the future to encompass an additional four buildings.
Beyond the benefit of reduced energy costs, estimated at $38,970 annually, the high efficiency of the biomass boiler is expected to raise awareness of the potential of wood as a cost-effective solution for achieving energy sustainability and low environmental impact objectives.
The boiler technology will be an ACT Bioenergy system, manufactured by Advanced Climate Technologies in Schenectady, NY.
Utilizing locally manufactured equipment and employing local design services and labor, the project and school will help support the growth of New York's high efficiency wood boiler industry. With projects like these, the ACT Bioenergy system manufacturer, Advanced Climate Technologies of Schenectady, New York, hopes to expand its market to additional New York schools and beyond.
Due to a compact combustion zone with controlled airflow for optimal burning, the boiler is expected to achieve between 85 and 95 percent efficiency and emit exceptionally low emissions. In turn, by replacing fossil fuels with greenhouse gas neutral wood biomass, the system is expected to reduce carbon dioxide emissions by an estimated 184 tons per year.  
Sustainable Wood Source
Without considering inflation of fuel prices, the school's investment into the energy efficient technology will pay for itself in six years. The payback may be even faster since the school can use wood sourced from their sustainably managed woodlot where trees are removed periodically to improve remaining trees' health and growth rate.
"We're taking ultimate responsibility for our own fuel wood," says Mr. Culpepper. "We've found that we can demonstrate that for a small industrial project like ours we will be able to harvest and process the majority of our fuel within a circle that's not very large. Our 'local source' is within a 100 meters, as opposed to 100 mile, radius."
Still, some people are concerned about the sustainability of harvesting wood for use in biomass heating systems. Identifying whether or not a source is harvested sustainably is an important aspect of the environmental impact and cost savings.
"The wood that the system uses will be harvested locally, through methods that take lower valued species and create a market for them. The result is better management of the forest," says David Dungate, president of Advanced Climate Technologies, the New York firm manufacturing the biomass system. Wood pellets, a type of fuel usually made from compressed saw dust, the school's fuel supply will be sourced from the first Forest Stewardship Certified producer in the United States, located in the North Adirondacks.
The North Country School received $250,000 award from the Energy Department's State Energy Program. The State Energy Program provides grants to states and directs funding to state energy offices from technology programs in the Office of Energy Efficiency and Renewable Energy. States use grants to address their energy priorities and to adopt emerging renewable energy and energy efficiency technologies. The State Energy Program is distributing $3.1 billion of funding to the states and U.S. territories under the 2009 Recovery Act.
To read more about the North Country School, read the full article on the NYSERDA website.