You are here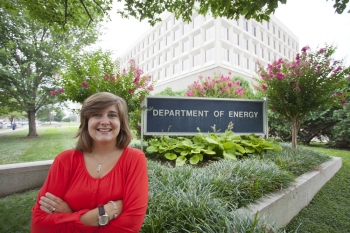 The author, pictured outside the Department of Energy's headquarters in Washington, D.C. | Photo by Sarah Gerrity, Energy Department.
This summer, I've been the intern in the Office of Public Affairs at the Department of Energy, part of the team that works to educate the public about the important energy, science and national security work of the Department.
I do not have a science background. I am not a political science major. And I never considered the federal government as a place I would apply for an internship or job.  As a communication major at Wake Forest University, a liberal arts school in North Carolina, I would not have expected to find a place for myself at the Department of Energy -- the federal agency that works to ensure America's energy future through scientific research and technological innovation. As my departure draws near, I have a new perspective.
In Public Affairs, our job is to help explain the work of the Department, the Secretary and, ultimately, the President. Whether it's making an announcement on improving efficiency standards for furnace fans or releasing information on new carbon capture technology, my office is working to craft and deliver these messages. We also answer press calls coming in from across the country, helping the media disseminate our information to people near and far from the nation's capital.
Arriving with a curiosity about energy issues and a determination to make an impact, I immersed myself in the Department's work throughout the summer. I've been able to learn about the government's external communications process from start to finish. And as I compile news clips at the end of each day, I get to see just how far the Department's message has travelled.
For me, the most gratifying aspect of working here has been collaborating with people from all around the office. Press secretaries, speechwriters and members of the digital team are joining forces to carry out a dynamic strategy to keep the American public informed on important energy policies and technologies. This has exposed me to the importance of working as a team to make sure the mission of the organization has been met. Whatever talent you have -- whether it be video editing, writing a press release or providing a fresh perspective -- if you have a desire to drive the mission of the Energy Department, you can find a seat at the table.
During my time here, I have had the privilege of meeting a wide range of driven young people. Throughout the summer, as I met more of my peers, it became clear that the Department is attracting students from across an educational spectrum. Some specialize in the humanities, with majors in communication, English or political science, using their skills to make policy and create effective communication strategies. Other interns are using their strengths in the sciences to contribute to the cutting-edge research and development that the Department needs to innovate and upgrade America's energy capabilities. Having had the pleasure of interacting with some of my fellow interns, I have seen just how much they can contribute to the Department's mission. What better way to secure America's energy future than to give those who will some day be leading it a chance to experience the Department firsthand?
Internships are often thought of as a career vehicle, meant to lift you into your post-graduate life. But my Department of Energy experience goes far beyond just that. Personally, it has given me the opportunity to use my education to contribute to and understand a federal agency's need to disperse accurate, meaningful information. It has been a privilege to have been offered this opportunity, and I fully plan on using the lessons I've learned here throughout my final year at Wake Forest University and, afterwards, in my professional life. I leave the Department of Energy with a passion for policy and a desire to be a part our nation's energy future -- and I have my internship experience to thank for that.