What does the Department of Energy's work to implement the Bipartisan Infrastructure Law  mean for people and the planet? How is DOE responding to the urgent call for climate action? As Earth Day approaches, these issues are at top of mind for our agency.   
With the latest Intergovernmental Panel on Climate Change Report continuing to sound the alarm that we must sharply decrease our carbon pollution immediately, Secretary Granholm emphasized that "we know what we need to do—deploy, deploy, deploy clean technologies in the power sector, transportation, buildings, industry, and more."  
For DOE, this investment comes with an historic expansion in our agency, setting up 60 new DOE programs over the next five years, and an historic down payment for our planet with $62 billion in new funding for DOE to partner with Tribes, states, local government, and innovators to fight the climate crisis. 
Embedding Equity
At the heart of these investments is a pledge from the Biden-Harris Administration to put equity front and center, delivering economic revitalization to communities that for too long have been disproportionately burdened by pollution and underserved by our government and others. Our new DOE Equity Plan is designed to ensure that the agency eliminates barriers to access, transforms programs and policies to open even broader pathways for underrepresented groups to access DOE resources, and stands up new programs to better serve communities. 
For instance, the Bipartisan Infrastructure Law expands the reach of the Weatherization Assistance Program (to the tune of $3.5 billion!) to help more state, local, and tribal governments reduce household energy use. This investment will save over 700,000 consumers money, reduce emissions, and improve the health and safety of homes in communities that are disproportionally impacted by high energy costs. See our rural communities fact sheet for more details. 
Driving Infrastructure and Workforce Investments
All these investments will also deliver jobs. We've stood up a national network of lithium-battery manufacturing workforce training this year, thanks to the Bipartisan Infrastructure Law and a partnership with the AFL-CIO and the Department of Labor. To deliver on the investments in the Bipartisan Infrastructure Law, we're staffing up the Department's Clean Energy Corps with 1,000 plus staff members, in positions ranging from administrative to project management. 
Continuing Forward
Over these past few months, DOE has made major inroads on climate, and our work is just beginning. We are pushing forward on: 
Cleaner, cheaper transportation. Historic investments in electric vehicle charging infrastructure are underway in partnership with the Department of Transportation that will help Americans shift to zero-emission driving. 
Stronger energy infrastructure. We'll modernize America's power grid with the largest investment in clean energy transmission in history and make our infrastructure more resilient to the impacts of climate change. 
Cleaner environments for America's students and teachers. We're investing $500 million to provide cleaner schools for our children and teachers by providing energy efficiency and renewable energy improvements at public school facilities. This will reduce energy costs in our schools and improve teacher and student health by improving indoor air quality. 
Want to Learn More?
Check out Secretary Jennifer M. Granholm's monthly Bipartisan Infrastructure Law recap. 
The investments will continue to roll out from the Department of Energy in partnership with Tribal governments and local communities. Bookmark our website to check back for more news throughout the year as we continue to charge forward and press for more ways to invest in our planet.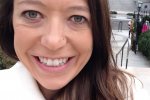 AnneMarie Horowitz
AnneMarie Horowitz has been with the Energy Department since 2010 and is a Public Affairs Specialist on the digital strategy team in the Office of Public Affairs.
more by this author