You are here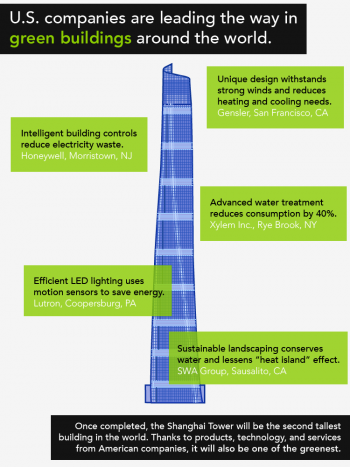 See how U.S. companies made the Shanghai Tower a shining example of green building. | Graphic by Matty Greene, Department of Energy.
In 2014, two daredevils broke into a construction site and climbed to the top of the second tallest building in the world: the Shanghai Tower. You may recognize it from their vertigo-inducing viral video, which leaves no doubt that the Tower is tall. What it doesn't show is how much American businesses have had an impact on making the structure one of the greenest large buildings in the world.
Green buildings are more sustainable than conventional buildings by using fewer building materials, conserving energy and reducing waste. Thanks in large part to technologies from U.S. companies (and compared to conventional technologies) the approaches used in the Shanghai Tower:
Reduce energy use by 21 percent
Reduce water consumption by 40 percent
Reduce the building's carbon footprint by 34,000 metric tons per year, equivalent to taking more than 7,000 cars off the road.
From the architectural design and landscaping to temperature control and lighting, U.S. companies have made significant contributions to the Tower's green design, which has earned a LEED Gold rating, as well as a China Green Building Three Star rating. Take a look at the graphic above to see some examples.
The Tower exemplifies how U.S. technology can drive economic growth while reducing carbon emissions, a path critical to addressing global climate change. As Secretary Moniz said in a recent speech, "Ultimately our focus is on the solutions to the climate-change challenge through technology. … American business will be called upon here to do the heavy lifting."
That's why 24 American companies are in China right now, joining Secretary of Commerce Penny Pritzker and Deputy Secretary of Energy Elizabeth Sherwood-Randall for a joint trade mission focused on smart cities and green infrastructure. The trip aims to follow through on the climate change goals laid out by President Obama and President Xi last November.
The Shanghai Tower is just one shining example of how U.S. companies are leading the way in green building technologies. In Shanghai and around the world, American innovation is scaling new heights when it comes to sustainability.